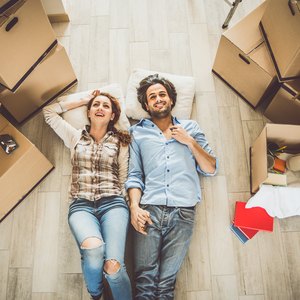 •••
oneinchpunch/iStock/GettyImages
Whether you have a little or a lot, you'd probably have a hard time replacing all of your belongings if they were suddenly damaged or stolen from your rental home. Even renters who can afford to cover the cost of their lost possessions get renter's insurance because it simply makes good financial sense. Renter's insurance can protect your property in case of a fire, flood or theft, depending on the type of coverage and the cause of damage. It can also pay for legal costs if an accident in your rental results in a lawsuit.
Fairly Affordable
A renter's insurance policy costs a lot less than to replace your stolen valuables or to repair your water-damaged belongings. The average cost of renter's insurance is $12 per month for $30,000 in property coverage and $100,000 in liability, which is about the price of a movie ticket or a couple of lattes.
Renters pay a lot less for insurance than homeowners or landlords because as renters, you need to cover only the cost of your goods within a dwelling and not the structure itself, since the rental home isn't your responsibility to rebuild if it burned down or was damaged by a storm.
What's Covered
Renter's insurance has two components: property coverage and liability coverage. Personal property coverage in renter's insurance pays for the replacement or reimbursement of your lost or damaged possessions. Liability coverage, on the other hand, pays for your legal costs and any other money you may be ordered to pay should someone get hurt in your rental home.
Items you can expect a typical renter's insurance policy to cover under the personal property coverage include:
Furnishings

Bicycles

Computers, laptops and tablets

Televisions, stereos and other electronics

Phones

Jewelry

Clothing

Guitars, pianos and other instruments
What's Not Covered Under Property Coverage
Certain limits apply to personal property coverage, especially when you use items partially or exclusively for a business you operate from your rental. For example, you use your computer and an electric guitar for both business and leisure. The insurance company may cover these completely or set limits to how much it will cover, paying only a portion of their cost to replace or repair if they are stolen or damaged. But say you also have music-production equipment and software which you use only for business purposes. Your renter's policy would likely not cover that.
Liability Coverage and Its Limits
Guests in your home may get hurt and need medical attention. If someone sues you because of something that happened on your rental property, and you're found at fault, your renter's insurance liability coverage may pay up to a certain dollar amount, such as $100,000, to cover costs such as:
Lost wages for the victim

Surgery

Hospitalization, emergency room and ambulence

X-rays, medicine and therapy

Legal fees
But there are also limits to liability coverage. For example, certain dog breeds may not be covered by a company's pet liability coverage. Insurance companies can deny you renter's insurance altogether if you own a high-risk breed of dog, such as a Pit Bull, German Shepard, Rottweiler or Doberman Pinscher. In some states, pet liability coverage isn't included in basic renter's insurance. Also, a company can limit the amount of coverage for pet liability. In that case, you would have to purchase an additional policy to protect you in the event your dog hurts someone.
Renter's insurance liability coverage also won't protect you from a business-related claim. If you run a business from your rental and make a mistake or otherwise end up on the wrong end of a lawsuit, your renter's policy will not cover you.
Separate Coverage for Catastrophes
A basic renter's insurance policy won't typically cover losses due to:
Earthquakes

Hurricanes

Wind damage

Weather-related flooding

Instead, the insurance company may offer you a separate policy, known as a "rider," at an additional cost. Depending on where you live, a rider can be an expensive addition to your insurance coverage. For example, if you rent in California, which is known for earthquakes, or in Florida, which is known for hurricanes and flooding, you will face higher premiums. But certain government-backed programs can help bring costs down for renters, such as the California Residential Earthquake Insurance and the National Flood Insurance Program.
When to Get Renter's Insurance
You should purchase renter's insurance when you begin renting, although you can purchase it when you're already well into a lease. You should also get renter's insurance if your landlord has homeowners or landlord's insurance, since that coverage may not fully cover your belongings or your expenses if pipes burst or there's a natural disaster. You should also buy your own renter's insurance policy if you live with a roommate, whether or not he purchases a policy, because you own separate property with different value.
Consider This When Selecting
Where you rent and your credit can impact your renter's insurance rates. High-crime areas come with higher premiums due to the increased risk of theft or vandalism. Also, a poor credit score will cost you more, since some companies run a credit check before insuring you and base your rates on how well you have managed to pay your bills, such as car loans and credit cards. Further, previous claims on a renter's insurance policy can also prevent you from getting a policy at a new place or from renewing with the same company.
To find out if renter's insurance make sense for you and to figure out the best coverage options for your situation, contact a few insurance companies for quotes. If you have auto insurance, your current insurance provider may be a good starting place. Some companies give you a discount when you "bundle," that is, when you buy two or more types of insurance with the company.