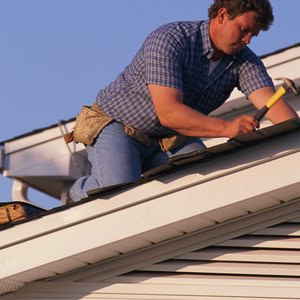 •••
Stockbyte/Stockbyte/Getty Images
Hiring a roofing contractor may require you to invest a significant amount of time and money. With so many roofing companies in business, unethical ones do exist. In most cases, finding the right person for the job requires thorough research. Before you can find the right roofer, you must understand the important things to look for. You can search for a reputable roofer through local contractor associations.
License and Permits
Many state laws require roofing contractors to have state licenses to perform roofing work. When looking for a roofing contractor, ask to see his state license. Avoid hiring a contractor without one.
Some states require roofing contractors to obtain permits before beginning work. When looking for a contractor, ask about his experience in obtaining permits. After hiring the contractor, request copies of the permits obtained from your local builders office.
References and Knowledge
A reputable roofing contractor can give you a list of references for work he has completed. Ask for names and addresses of the properties to check his quality of work.
Know the type of repairs you need for your roof before hiring a contractor. Contact several roofing companies to look at your home to assess the damage.
Estimate and Payment Terms
Ask whether the contractor provides written estimates. The estimate should include the nature of the work, materials needed, the project's total cost and the estimated completion date. A written estimate can help protect you from erroneous charges.
Understand contractors' payment terms when looking for someone to work on your roof. Avoid paying a contractor in cash or the total amount due upfront.
Insurance and Subcontractors
You need to know if the contractors you call have adequate insurance coverage. The insurance should protect you and the contractor in the case of damage or injuries. Ask for copies of a contractor's insurance policy before hiring him.
Many roofing companies use subcontractors to complete jobs. Ask about the qualifications of all subcontractors the primary roofing contractor plans to hire. Subcontractors also need business insurance to cover any injuries or damage.
Contract and Warranty
Once you decide on a contractor, you should receive a contract outlining the terms of the roofing project. Check the contract to verify it contains the correct information. Ask the contractor to explain any parts of it you don't understand and keep a copy for your records.
The specific coverage provided by contractor and manufacturer warranties varies. Some warranties cover certain aspects of material and work for a specified period of time. Read the warranties for details.