What Tax Forms Do I Use to File With a W-2 & 1099-MISC?
by Chris Brantley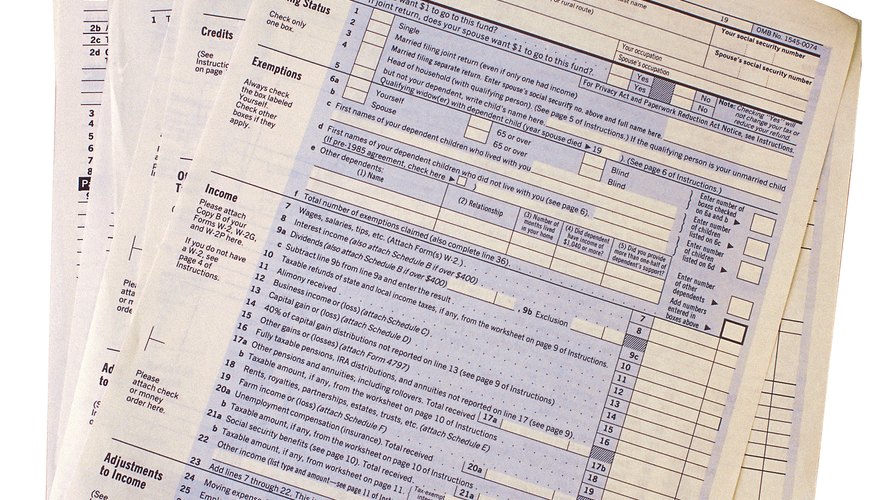 Employees receive W-2 forms each year from their employers listing earned wages and taxes. An independent contractor -- a freelance worker providing a service based on a contract or agreement -- gets a 1099-MISC form from their clients. If you happen to receive both you'll use Form 1040 and a secondary form called a Schedule C to file your taxes. You also have to calculate your self-employment taxes on the Schedule SE form.
Starting Point
The primary tax-filing document is Form 1040. If you earn all your pay as an employee it may be the only form you need to fill out using information from your W-2. Single or joint filers with no dependents can use a simplified form known as the 1040EZ. However, if you made money from other sources -- such as interest, investments or a side business -- you'll also have to attach other forms called schedules to your return.
Schedule System
You'll have to attach a Schedule C form if you received non-employee compensation from being an independent contractor or having your own business. You may not have what you consider an official business but the person paying you is treating you as an independent contractor, not an employee. Your clients or customers must send you a 1099-MISC form if they paid you $600 or more for the year. You must file a Schedule C if you earn at least $400. One of the advantages of having 1099-related income is you can take tax deductions that aren't available to employees.
Completion Process
You can deduct some business expenses as an independent contractor or self-employed person on the Schedule C. If you spent less than $5,000 on your business you get to fill out a Schedule CZ form, a streamlined version of the Schedule C. The amount you get paid on your 1099 minus your eligible business expenses equals your net profit. This is the amount you actually pay taxes on. For example, if you're a self-employed tutor you can deduct the books or supplies you use to carry out your work.
Ordinary and Necessary
The deduction usually qualifies if it's an expense that's ordinary and necessary for your line of work. The Internal Revenue Service looks at a cross-section of people who perform your type of work to determine whether a given expense is ordinary. Necessary means the expense helps you carry out your job more effectively even if it isn't absolutely essential. A freelance photographer may need a specialized digital camera to take professional photos but a part-time pet sitter would not. Once you complete the Schedule C you can enter the final net profit calculation on your 1040.
Self-Employment Tax
If you have both the W-2 and a 1099-MISC form you'll see that the 1099-MISC doesn't include Social Security or Medicare tax withholding. As an employee, your employer takes those taxes from your paychecks so you don't have to pay them on your tax return. If you receive 1099-related pay you have to figure out and pay these taxes yourself. You do this using Schedule SE, which is then attached to your 1040. You only calculate the taxes on your net profit from Schedule C -- not the entire amount listed on your 1099-MISC.
Photo Credits
Comstock/Stockbyte/Getty Images