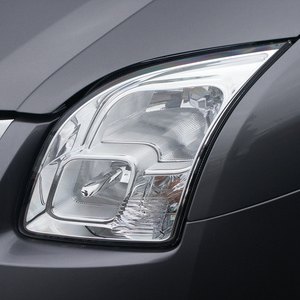 •••
Headlight on new car image by steven Husk from Fotolia.com
Purchasing a new car can be quite exciting. For many individuals, buying a new car creates new opportunities for professional and personal growth. Although it's easy to get caught up in attractive financing offers and an array of vehicle luxuries, it's important to remember that you will be responsible for paying a sizable amount of tax on your car purchase that doesn't initially appear on the price tag. Although you can deduct the taxes on your car as part of a car purchase tax deduction, it may not be in your best interest, particularly if your car is being used for personal uses only.
You can deduct the state tax on buying a new car, but it usually does not make sense to do so unless the sales tax is higher than the amount of your state income tax due.
Vehicle Sales Tax Deduction
A vehicle sales tax deduction is one of several possible deductions available to individuals who have decided to purchase a new car. If you are looking for a tax break for buying a car, this could suit your needs quite nicely. It is important to note, however, that choosing to claim a car purchase on taxes by deducting your sales tax on the purchase will void your eligibility for the general state income tax deduction.
Deduction Considerations
Generally speaking, the only advantage of deducting your vehicle sales tax is if your sales tax accruals throughout the year were larger than the amount of state income tax you would be paying. If this situation does, indeed, represent your current circumstances, you should collect all of the necessary paperwork to properly document your purchase. This includes all sales receipts from the purchase of the vehicle. Without these receipts, you will be unable to successfully provide a record of the transaction, and your deductions may be voided. Keep in mind that you can incorporate a variety of other vehicle purchases into your deduction if this particular situation applies to you. You can then use the official IRS sales tax tables in order to determine the specific amount of sales tax you paid based on your income and, consequently, the size of your car purchase tax deduction.
Filing Your Deduction
You can use IRS Form 1040 in order to properly record your deductions and ensure that you receive the appropriate refund at year end. Keep in mind that you cannot claim both the income tax and sales tax deductions available to you. If you have any questions about this process or are unsure as to which particular deduction opportunity will provide you with the largest possible savings, it is strongly recommended that you consult with a tax professional.
References
Writer Bio
Ryan Cockerham is a nationally recognized author specializing in all things innovation, business and creativity. His work has served the business, nonprofit and political community. Ryan's work has been featured at Zacks Investment Research, SFGate Home Guides, Bloomberg, HuffPost and more.