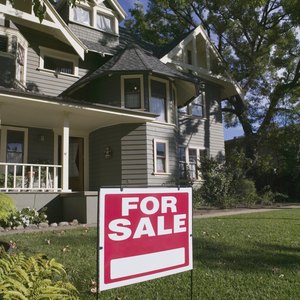 •••
Brand X Pictures/Brand X Pictures/Getty Images
Homes listed on the multiple listing service can be labeled by several different descriptions or statuses. A few examples of listing status descriptions may include: active, sold, pending, active accepting backup offers, withdrawn or expired. These descriptions let the general public and real estate brokers know where the house is in the selling process. An active status typically gives the green light to agents and buyers that the home is still available for sale.
A property that's listed with an "Active" status is available for sale, without any pending contracts or contingencies.
Status Active Subcategories
"Active" status may be further broken down into subcategories. "Active Contingent" means the house is still technically available, but its sale may be pending a buyer's financing approval. "Active Option Contract" means that the seller has accepted an offer from a purchaser, but the contract is still in the options period, during which the potential purchaser is allowed to have an inspection of the property. Make sure the property you're considering is in "Active" status without any of the subcategory classifications if you want assurance that another purchaser doesn't have prior preliminary claim.
Valid Listing Contract
Active listings on the MLS must have a valid listing contract in place with a real estate broker to be considered active. The listing may not be expired or withdrawn, and therefore legally acceptable to present for sale on the multiple listing service. A valid listing contract also ensures other real estate brokers compensation in the event of a sale. The seller pays the real estate commission for both the listing agent and the selling agent in most cases.
Showings and Inspections
Listings with a status as active are available to show or inspect as long as you adhere to the showing instructions. Many sellers may require you to make an appointment before showing up on their doorstep, sometimes with a minimum of 24 hours in advance. Homes with another status such as pending or withdrawn are generally restricted for showings and the status description makes agents and buyers aware that the home is unavailable to see.
Other Offers
An active listing description also means no other accepted offers are on the home. You can make an offer at any time and compete with any interested buyers. Most multiple listing organizations require their agents to change the status of a listing to "pending" as soon as an offer is accepted on the home -- this lets other agents and potential buyers know that the home is under contract.
Days On Market
Many homeowners with homes on the market for an extended time may be willing to negotiate a reduction in price and accept a lower offer than originally stated. Most MLS listing sheets total the number of days a home has been listed as active, and this can be a crucial negotiating tool when presenting an offer to a homeowner. Generally the days on market stop accruing as soon as the home status is switched to sold.
References
Writer Bio
Meribeth Phipps has been a real estate broker since 2000, specializing in residential new home sales. She holds a bachelor's degree in business and marketing.