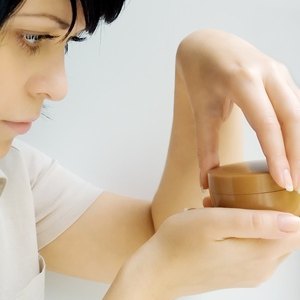 Loans you apply for to start a business have to be paid back. The interest payments alone could hurt your future profits from that business. Even if you have good intentions, sometimes circumstances prevent you from paying back loans. Defaulting on loans has serious repercussions in terms of getting future loans and getting harassing phone calls from creditors. Instead, start cosmetology school with grant money that does not have to be paid back.
Ask for advice from a mentor. Contact lawyers, financial advisers and others in the cosmetology industry. Explain your goals and thank them for any guidance they can provide.
Search for grants for school programs. Anthony Hollis offers a search strategy in his book "Everything You Need to Know about Grants." He suggests that you start your search by asking for recommendations from the people in your existing network. Also, in the book "The 'How To' Grants Manual," David G. Bauer writes "Grants.gov is a central storehouse for information on over 1,000 grant programs and access to approximately $400 billion in annual awards." After utilizing available resources, search for grants offered within the community. After you've exhausted the local resources, search for grants at the state and federal levels.
Collect data on the available grant programs you discover. Organize them in a calendar to mark all the deadlines of the programs that you have found.
Hire a professional business writer to help you write a business plan. Determine the amount of funding you need. Make a list of items you will need such as wigs, mannequin heads, and beauty chairs. Use manufacturer's websites such as Veeco Manufacturing to price your items. Add 30% to your total to give yourself cushion for unexpected expenses.
Collect data on the performance expectations of cosmetology schools, enrollment and graduation trends and other demographics on cosmetology schools already accepting students. Explain how your school will follow the success and avoid the failures of those other schools. Explain why your school is necessary when there are already other schools operating.
Prepare an information request letter also known as corporate letter request. Keep the letter short and professional. Include your request for funding within the first paragraph. Describe your cosmetology school concept in the second paragraph. Describe concisely how the funds will be used.
Review the application requirements. Collect necessary documents that you will have to mail along with the grant application, such as Social Security card, resume that describes your experience in the field of cosmetology and any teachers you plan to employ, as well as transcripts and other pertinent documents.
Return to the letter and re-write it. Cut out any fat that does not really tell the reader about your cosmetology school plans.
Complete the application form. Double check for errors. Ask a friend to check to make sure your application is error-free.
Re-write your request letter to make it stronger. Edit it and have it reviewed by a third party to check for errors.
Submit your application and cover letter.
Attend any face-to-face consultations or meetings required by the grant review board. Dress professionally as if you were going to a job interview.
References
Everything You Need to Know about Grants: How to Write the Grant--How to Get; Anthony Hollis; 2004
The "how to" Grants Manual: Successful Grantseeking Techniques for Obtaining; David G. Bauer; 2007
Resources
Grant Writing for Dummies; Beverly A. Browning; 2008
Writer Bio
Sam Williams has been a marketing specialist and ad writer since 1995. He has been published in magazines such as "Reaching Out" and "Spa Search." He served in various sales and marketing positions with major corporations such as American Express, Home Depot and Wells Fargo. Williams studied English at Morehouse College.