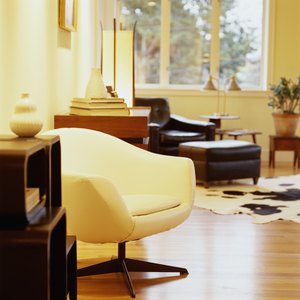 •••
Ryan McVay/Digital Vision/Getty Images
Selling a condominium puts your living environment on display to the public. Serious buyers and lookie-loos will traipse through your home, opening doors and cupboards, peeking into your private spaces and acknowledging your housekeeping skills. Step back and view your home through the eyes of a real estate purchaser and then stage it. A well-presented condo that leaves room for a buyer's imagination has an advantage in both a buyer's and seller's market.
Declutter all your surfaces by removing personal photographs and displayed collections. Depersonalize your condo, leaving space for a buyer to imagine himself living there. Start packing away books and magazines that line your tables, clean off your desk and organize your kitchen counters by removing appliances. Take magnets off the refrigerator.
Organize your furniture to take advantage of the often limited condo space. Remove oversized sofas and chairs if the living room is small, and replace them with scaled-down versions to make the space appear larger. Replace or repair damaged cushions or upholstery and add freshly plumped throw pillows. Create an image of a homeowner who cares about her furnishings, thus caring about her condo.
Clean and organize your closets. Buyers will certainly inspect the storage space available. Do the same with kitchen and bathroom cupboards. Replace hardware in the kitchen and bathroom if it's old, and touch up any marks on the cupboard panels. Display a new set of towels in the bathroom and kitchen when showings are booked. Add a pot of fresh or silk flowers to the kitchen counter and a living room side table.
Clean all the floors, whether you have hard or carpeted surfaces. Replace the carpeting if it's dreadful. Eliminate all pet odors from rugs. Place a new welcome mat in the entry.
Paint. Cover all bold or dramatic paint colors with neutrals such as beige or grey. Touch up the baseboards with semigloss paint and do the same if you have crown moldings. Repaint the inside of the front door, and if possible, the hallway side.
Freshen your window coverings, especially if they are damaged. Open them for viewings, demonstrating the amount of light entering your unit. If the view is limited or unattractive, install window shades that pull down from the top. Make sure the windows and sills are clean. Use mirrors to expand your space.
Remove dust from your air conditioning vents and replace the filter. Clean the oven and refrigerator. Tidy up your patio or balcony and stage a small cafe table with two chairs, especially if space is limited.
Inspect the hallway. If possible, place a potted silk plant in front of your door as a welcoming symbol. If that's against the condo's rules, make your entry as clean and attractive as possible.
References
Writer Bio
Jann Seal is published in magazines throughout the country and is noted for her design and decor articles and celebrity *in-home* interviews. An English degree from the University of Maryland and extensive travels and relocations to other countries have added to her decorating insight.