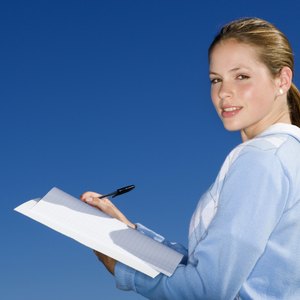 •••
Polka Dot Images/Polka Dot/Getty Images
The college-application process can be a whirlwind of stress that requires you to gather recommendations, request transcripts, write several essays and study for one or more standardized tests. The scholarship-application process can add fuel to this fire of stress, but starting early can help you maximize your likelihood of getting a scholarship to help fund your education.
Planning to Apply
You should begin planning your college applications as early as you possibly can -- perhaps even during your freshman year. Do a preliminary search to see the scholarships for which you might qualify. Then work on shaping yourself into the ideal candidate for these scholarships. For example, if the school of your dreams offers scholarships to strong writers and prefers bilingual students, start taking foreign-language classes and excelling in your writing and English classes. This can give you a strong leg up on your competition and save you from last-minute panic.
Gathering Paperwork
Begin gathering the paperwork you'll need to complete your applications several months before the application deadline -- usually at the end of your junior year or the summer before your senior year. If you know you'll need to craft a personal statement for several scholarships, get this together and talk to your professors about giving you a recommendation. Gather your school transcripts and track down any paperwork you can't immediately locate. Then, when it's time to apply, all you'll have to do is complete a form and mail it in.
When to Apply
Complete and mail your scholarship applications several weeks before the deadline. This ensures that mail snafus and administrative hiccups don't render your application late. For most scholarships, deadlines will be sometime during your senior year in high school. The U.S. Department of Education reports that some scholarship applications are due as much as a year in advance of graduation, so remain abreast of deadlines and double-check for any scholarships you missed in your preliminary search.
Supplementing Scholarships
If you don't get a full scholarship, you'll need to supplement your scholarship award with loans and grants. Knowing how much money you can expect to receive can help prepare you to choose a school and budget for living expenses. Complete your Free Application for Student Aid (FAFSA) from the U.S. Department of Education during the beginning of the second semester of your senior year -- earlier if you think you'll need large loans.
References
Writer Bio
Van Thompson is an attorney and writer. A former martial arts instructor, he holds bachelor's degrees in music and computer science from Westchester University, and a juris doctor from Georgia State University. He is the recipient of numerous writing awards, including a 2009 CALI Legal Writing Award.