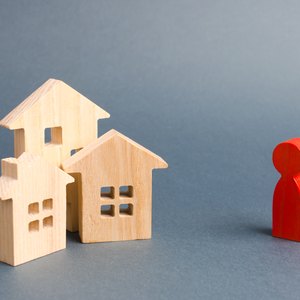 •••
Andrii Yalanskyi/iStock/GettyImages
If you're over the age of 60 and haven't checked into property tax assistance programs, you may be missing a great opportunity to save money. In areas across the U.S., there are homestead exemptions, rebates and lower assessments available to senior citizens. In most cases, property tax relief will come in the form of a reduction in taxable value, which simply means that a portion of your home's value will be exempt from the property taxes you're asked to pay each year.
Property Tax Assistance for Seniors
Property tax relief programs are on a local level, so where you live will determine the opportunities you have available. Generally speaking, most states have some form of property tax relief available to local residents over a certain age. These often come in the form of something called a Homestead Exemption, which exempts either a dollar amount or a percentage of the total property value from property taxes. If your home is worth $200,000, a Homestead Exemption might exempt the first $50,000, for instance, leaving you only owing property tax on $150,000.
The minimum age can differ from one program to the next, so it's important to check even if you don't yet consider yourself a senior citizen. In Washington, you'll qualify for an age-related discount on property taxes starting at age 61. You may also find that you get more benefits the older you are. In Nashua, New Hampshire, the amount varies by age. At 65, you get an exemption of $192,000, increasing to $224,000 at age 75 and $280,000 at age 80.
In some cases, you'll be required to have lived in your home for a minimum time period to qualify. If you're disabled, you may also have to provide proof of your disability, such as documentation showing you're eligible for Social Security benefits. You also may be asked to show proof of your age, which you can easily do with your driver's license or other government-issued identification.
Overall Property Tax Costs
Although property tax breaks vary from one jurisdiction to another, it can help to look at the states with the lowest overall property tax rates. Despite its extremely high cost of living, Hawaii actually excels in this area, offering the lowest effective tax rates in the country. This is followed by Alabama, Louisiana, West Virginia and Wyoming.
Senior Property Tax Exemption Programs
Many states offer application-based property tax relief to all local residents who qualify. These discounts may or may not be age-specific. Cook County, Illinois, has a Homeowner's Exemption program that applies to any homeowner who has occupied the property since Jan. 1 of the current year. You'll get $250 to $2,000 per year, depending on the amount of taxes you're paying on the property.
Washington state also has an exemption for seniors, in the form of a reduction in the amount of the property taxes due. You'll need to be at least 61 years of age at the end of the year prior to the year that taxes are due. If you're retired due to disability or a military veteran, you may also qualify. There's also a disposable household income limit of $40,000.
Utilizing Homestead Exemptions
One way many jurisdictions offer age-specific tax relief is through the use of Homestead Exemptions. Florida offers a Homestead Exemption for all homes in the state that serve as the primary residence for a homeowner. In addition to this, Escambia County residents age 65 and older may be eligible for a Senior Homestead Exemption, which exempts up to $50,000 on the taxable value of the property, in addition to the up to $50,000 offered by the state.
Fulton County, Georgia, has multiple Homestead Exemption property tax assistance programs. These include a Senior Homestead Exemption specific to the county, offering a $50,000 reduction in taxability to those over the age of 65. It only applies to the portion of your property taxes that goes to Fulton County.
Senior Freeze Programs
If you're having difficulty paying your property taxes, you can get relief in the form of one of the many freeze programs available in many areas. Nashville, Tennessee, is one of those cities, with all residents in Metropolitan Nashville-Davidson County age 65 and over allowed to freeze their property taxes, as long as their household income doesn't exceed the limit.
In Minnesota, you may qualify for the state's Senior Citizens Property Tax Deferral Program if you are 65 or older and your spouse is at least 62. Your household income will need to be $60,000 or less to qualify and you'll need to have lived in your home as a primary residence for the past 15 years. Under this program, you'll pay up to 3 percent of your household income and the state will pay the remainder in the form of a loan you'll have to pay back with interest.
Residents of Plainfield Township, Illinois, can apply for a property tax freeze in addition to the Homestead Exemptions they're taking, as long as their household income falls below $65,000. If your application is accepted, your assessment will be frozen for the year, but you'll have to reapply each year.
Property Tax Postponement Programs
California offers property tax assistance for seniors in the form of a postponement program, which lets qualifying residents postpone paying their property taxes until the house is sold. Interest is applied at the rate of 7 percent each year, and the state puts a lien on the house until the debt is paid. Repayment isn't due until the homeowner sells the home, transfers the title, defaults on another lien, refinances, dies or obtains a reverse mortgage.
To qualify for the California Property Tax Postponement Program, you'll need to be age 62 or older, blind or disabled. You must own the home, and it must be your primary residence. You'll also be required to have a household income of $35,500 or less, and you have to own at least 40 percent equity in the property in question.
California isn't the only state with such a program. In fact, there are more than 20 states with postponement programs, yet very few residents take advantage of them. In addition to California, Texas, Minnesota, Massachusetts and Oregon have postponement programs in place.
Property Tax Rebates for Seniors
In some states, tax relief comes in the form of a property tax rebate for seniors. In this instance, you pay the amount due, then get paid back later for it. Pennsylvania puts some of its lottery earnings each year toward this type of program, which helps with property taxes for seniors who own homes and rent for those who don't.
In Pennsylvania, to qualify for the property tax rebate for seniors, you'll need to make less than $35,000 a year, with half of your Social Security income included in that equation. The program is open to seniors age 65 and older, as well as widowers age 50 and older, and those with disabilities starting at age 18. You'll get a standard rebate of up to $650, but there are supplemental rebates that can boost that total to $975.
Programs for Military Veterans
In an effort to support military personnel, some states provide property tax relief to honorably discharged military veterans and their spouses. Connecticut is one of those states, exempting $1,500 from the total assessed value of a home as long as the veteran served at least 90 days on active duty and received an honorable discharge. California also offers a tax exemption to military veterans, but your house can't be worth more than $5,000, or $10,000 if you're married, so it's doubtful many homeowners qualify.
Maine has a better deal for senior military veterans, offering a $6,000 exemption to any veteran who served during wartime and is at least age 62. In Iowa, veterans qualify for a reduction of $1,852 if they served at least 18 months on active duty, or any length of time during a war. Wyoming's property tax assistance program reduces your assessed value by $3,000 if you served overseas in World War II, the Korean War or the Vietnam war; received a qualifying medal of honor while serving overseas during any conflict or are a qualifying disabled veteran.
Programs for Disabled Veterans
Most of the time, you'll find property tax programs geared toward older residents also apply to those who are disabled. There may be an age minimum on that, but in some instances, you can get the relief at any age. However, if you're a disabled military veteran, you may be eligible for either additional benefits or benefits at a younger age.
Almost every state has a property tax benefit for disabled veterans, although they differ from one state to the next. It's important to check the specifics on your own area if you're a disabled veteran, but here's a sampling of the offerings:
Idaho – If you're at least 10 percent disabled, you may qualify for an exemption of $1,320.
Vermont – Vermont veterans who are 50 percent disabled or more could qualify for an exemption between $10,000 and $40,000.
North Dakota – This state's property tax assistance program includes an exemption on the first $120,000 on primary residences for paraplegic veterans if you're in specially adapted housing. Veterans who are at least 50 percent disabled may qualify for an exemption on the first $6,750 of the assessed value.
School Property Tax Breaks
Some local jurisdictions give seniors a break on the portion of property tax they pay that goes to local schools. Some counties in New York offer this and, for some seniors, it can reduce property taxes by 50 percent. Texas applies this specification to its Homestead Exemption, helping seniors exempt up to $10,000 of their assessed value.
In Delaware, residents who are age 65 or older may qualify for a credit that they can use against regular school property taxes. This credit is for 50 percent of the property taxes they'd pay, with a limit of $400. Under new laws, though, residents have to be a 10-year resident of the state.
Widow and Widower Exemptions
If you've lost a spouse, property tax assistance for seniors may bring additional benefits to you. This is called a Widows Exemption, and it reduces property taxes for widows and widowers. In Florida, you'll reduce your taxable assessment by $500, for instance, and this is in addition to the other property tax savings available to homeowners in the state. Some areas of Arizona waive property taxes for some widowed residents.
For the surviving spouses of veterans, it's important to check into property tax exemptions that relate specifically to you. In Rhode Island, if you remain unmarried after your spouse's death, you may qualify for a property exemption, and in South Carolina, surviving spouses of veterans can get a full property tax exemption if their late spouse was fully disabled in connection to military service.