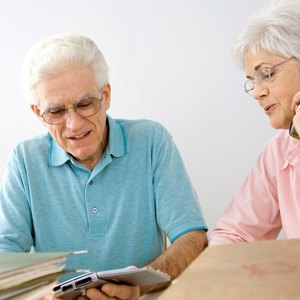 •••
Photos.com/Photos.com/Getty Images
Technological innovations can go a long way to enrich the lives of senior citizens. Communication tools like Facebook, Skype and even texting or chatting can make staying in touch with children and grandchildren possible. However, for older people who have not grown up with technology, learning how to use it effectively can be a frightening and frustrating process. Luckily, grants can help senior citizens get their hands on and learn about different technologies.
Adult Education Grants
Although most people associate adult education with ESL courses and GED prep, senior citizens who want to learn how to use technology can do so at an adult education center. Because there are a number of grants designed to provide funding for course offerings at such centers, those wishing to offer technology classes for senior citizens may find funding through federal, state, local or private grants. For example, the U.S. Department of Education notes that the federal department of education provides grants to the states to fund adult education programs. The Pennsylvania Department of Aging has also granted funds to adult educational centers for technology to be used for senior citizens.
Senior Program Grants
Outside of general adult education, some communities and institutions of higher education offer specific programs or centers for senior citizens. Many of these programs offer technology access and training as well as grants to help needy seniors attend. For example, Prince George's Community College in Maryland offers the SAGE (Senior Adults Growing Educationally) program, an education program specifically for senior citizens. The program, which includes beginning to advanced level computing, offers tuition wavers and registration fee grants for seniors who meet residency and need requirements.
Establishing Technology Resources
Seniors who live in areas where no programs or centers offer technology resources should be aware that government and private grants make funds available for starting such programs. For example, the federal Administration on Aging offers grants to develop "community-based systems of service" for older adults. These grants can be used to develop technology education or access programs.
Safety Grants
Certain technologies, like cell phones and medical alert systems, can help make senior citizens safer. For seniors who can't afford these technologies on their own, government and private grants can provide financial assistance. For example, Safe Link Wireless provides free cell phone service for low income individuals, including seniors, in some states. The program is supported by a federal grant.
References
Writer Bio
Miranda Morley is an educator, business consultant and owner of a copywriting/social-media management company. Her work has been featured in the "Boston Literary Magazine," "Subversify Magazine" and "American Builder's Quarterly." Morley has a B.A. in English, political science and international relations. She is completing her M.A. in rhetoric and composition from Purdue University Calumet.