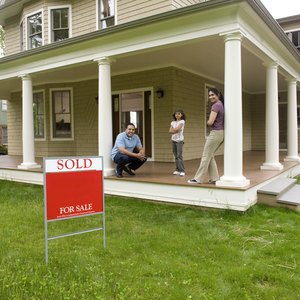 •••
David Sacks/Lifesize/Getty Images
Although sellers generally want close to their asking prices, slow market conditions or a house that has been for sale for a while sometimes motivate a seller to accept a low-ball offer. What constitutes a low-ball offer varies depending on local housing markets. Even if a seller rejects your initial offer, six months later if the property hasn't sold, your offer may get more consideration. If the seller eventually comes back with a counteroffer, you can still make a good deal.
Hire a buyer's agent who has a reputation for getting offers accepted. Not all agents are willing to present low offers. Request that your real estate agent hand delivers your offer to the seller's agent. Your offer has a better chance of being accepted if your agent presents it to the seller in person.
Ask your agent to pull a comparative market analysis to determine the property's fair market value. You may have more room to negotiate if home values are down and similar properties in the area have sold for less than their list prices. It also can be to your advantage to point out the number of comparable homes that are for sale in the same neighborhood, notes Jon Boyd in an article published by "The Wall Street Journal MarketWatch."
Find out for how long the home has been on the market. Ask the seller's agent if anyone else has made an offer on the property. If there have been no previous offers or the sellers have already moved, they may be more motivated to sell the home at a lower price.
Avoid offending the seller. You'll have a better chance at getting the home for a lower price in a buyer's market, but you don't want to kill a deal before you even get negotiations rolling. Be well informed and then offer what you think is a fair price.
Explain why your offer is low. You may have a better chance at negotiating a deal if you can show for how much other comparable properties in the same area have recently sold. A seller also may consider a low offer if the home needs major repairs or upgrades. It helps to know the market, the property and the seller so that you have the backing to support your offer.
Ask for few contingencies and have a lender pre-approval letter for financing in hand when you submit a written offer. Offering a larger earnest money deposit may gain you more favor in the sellers' eyes as well. Even when you make a low offer, you want the deal to look as attractive as possible.
Offer to buy the home with cash. A seller under time constraints may accept an all-cash low-ball offer, especially since the deal can close quickly. As financing can fall through, the seller may see your cash offer as less risky and be willing to take a lower price.
References
Writer Bio
Amber Keefer has more than 25 years of experience working in the fields of human services and health care administration. Writing professionally since 1997, she has written articles covering business and finance, health, fitness, parenting and senior living issues for both print and online publications. Keefer holds a B.A. from Bloomsburg University of Pennsylvania and an M.B.A. in health care management from Baker College.