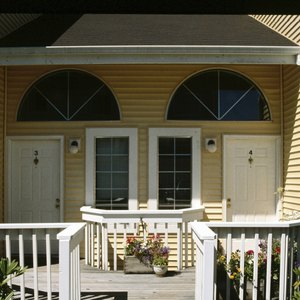 •••
Ablestock.com/AbleStock.com/Getty Images
Whether you own a duplex or an apartment property, the underlying principles to selling it fast are roughly the same. The key to a successful sale is to prepare the property, price it right, organize your records and find qualified buyers to create a competitive bidding environment. You can accomplish this whether the market is one where properties are scarce or one where buyers are harder to find.
Preparing to Sell
Compile a due diligence package. Buyers of your property will want to see annual income and expense figures, and supporting information like leases or utility bills. Having these ready before the sale will speed up the process. You may even choose to make your operating data available to prospective buyers to help them make a faster decision.
Evict and replace problem tenants if you can do so legally. When you have a tenant that is not paying rent or causing trouble in your building, he could scare away motivated buyers. Hold on to your good tenants, since the next owner will probably be depending on the rental income from them to make his mortgage payments.
Repair obvious problems with the property. While many multifamily buyers have more realistic expectations of a building's condition than single-family home buyers, if they see visible issues, they may suspect that the building has even more hidden problems.
Market the Property
Contact owners of nearby investment properties. Many owners like to own multiple properties in the same area since they can save money by, for instance, having a single maintenance person handle both buildings. If they don't buy the building, they may know someone that would be interested in it.
Post your building on appropriate web sites. Sites like LoopNet, CoStar and Craigslist reach large audiences. These sites may bring you contacts from investors who can close quickly, albeit sometimes at a lower price, and from active real estate agents.
Offer owner financing to speed up the closing process and expand the buyer pool. While owner financing increases your risk, it makes it easier for the buyer to buy the property. If you choose to finance the property for the buyer, it's usually best to get a down payment so that the buyer has some of his own money invested in the property and has something to lose if he doesn't make his payments to you. You may also choose to have an attorney help you draft financing documents that protect your interests.
Hire a real estate agent who specializes in multiunit investment properties. An agent will handle listing and marketing your property, and provide an online presence. He can also advise you as to whether or not you will need to offer owner financing to attract buyers.
References
Resources
Writer Bio
Steve Lander has been a writer since 1996, with experience in the fields of financial services, real estate and technology. His work has appeared in trade publications such as the "Minnesota Real Estate Journal" and "Minnesota Multi-Housing Association Advocate." Lander holds a Bachelor of Arts in political science from Columbia University.