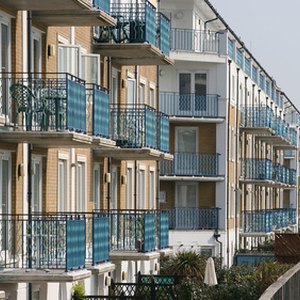 •••
apartment building image by Christopher Dodge from Fotolia.com
The United States Department of Housing and Urban Development administers the Housing Choice Vouchers program, commonly known as Section 8. Section 8 does not requires its recipients to live in housing projects. Instead, the program helps low-income households afford privately-owned rental housing in the neighborhoods of their choice. Inquire about Section 8 at your local Housing Authority office, but keep in mind the details of the program will vary from state-to-state and often undergo changes each year.
Who Is Eligible for Section 8?
Low-income individuals and families across America are eligible for Section 8 rental assistance. Local public housing authorities determine who is eligibility based on family size and gross income. Gross family income may not exceed 50 percent of the median income for families in the county or area. However, federal law states that local Housing Authorities must distribute 75 percent of their vouchers to families that make only 30 percent of the median income or less.
How Much Assistance Does It Provide?
Local Housing Authorities determine the amount of assistance provided by Section 8, which depends on the size of the family and the family's collective income. Though exact percentages may vary, families pay about 30 to 70 percent of their income toward monthly rent. In most cases, Section 8 programs reduce the rent burden to allow low-income renters to pay rent more easily. The Housing Authority gives money directly to the landlord, not the tenant.
What Are the Tenant's Responsibilities?
As in typical rental situations, tenants using Section 8 must adhere to the lease provided by the landlord. In most cases, tenants must sign a one-year lease. Tenants must use Section 8 housing as their principal residence. Local Housing Authorities have the right to inspect Section 8 rental housing. Current tenants must give notice to the Housing Authority when new residents move into the household. By law, Section 8 tenants must also provide copies of eviction notices, should eviction occur.
What Are the Landlord's Responsibilities?
Landlords can only lease units to persons listed on the lease. Under Section 8, landlords cannot reside in the units or be related to tenants using Section 8 to rent units they own. Landlords can charge a security deposit to be similar to fair market rates, usually not to exceed the amount of one month's rent. Landlords can terminate leases for good cause, or mutually terminate leases with tenants. Most cases require a 30-day written notice.
References
Writer Bio
Dan Ketchum has been a professional writer since 2003, with work appearing online and offline in Word Riot, Bazooka Magazine, Anemone Sidecar, Trails and more. Dan's diverse professional background spans from costume design and screenwriting to mixology, manual labor and video game industry publicity.