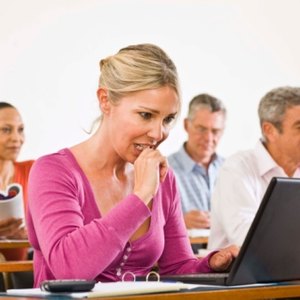 •••
Jupiterimages/BananaStock/Getty Images
Women returning to school seek to earn not only their first undergraduate or advanced degree, but also credentials that allow them to start a second career. Often, women returning to college to jump-start new careers must juggle the responsibilities of motherhood and work life with academic and financial demands. Scholarship funds enable women with low incomes and clear career goals to offset the cost of tuition, books, housing and dependent care.
Types
Scholarships target women based on career goals, academic backgrounds and age groups. Scholarships such as the Charlotte W. Newcombe Scholarship target women who are at least 25 years old and have already begun a baccalaureate degree program. The New York School of Interior Design's Keith Bjes Scholarship seeks students who wish to embark on a second career in interior design. Some scholarships, such as the Herbert W. and Corinne Chilstrom Scholarship for second-career students preparing for ordained ministry, are based on religious affiliation. Additionally, women applying to the Herbert W. and Corinne Chilstrom scholarship fund must be members of the Evangelical Lutheran Church in America.
Requirements
To ensure that scholarships reach the right applicants, strict requirements are outlined for applicants who wish to return to college or a vocational school to start a second career. In addition to meeting a minimum GPA and submitting a personal statement, scholarships may require that applicants hold U.S. citizenship. Other application criteria typically require that applicants be affiliated with the organization providing scholarship funding. Also, many organizations, such as the Evangelical Lutheran Church of America, mandate that scholarship recipients use the funds within the academic year following the award date.
Education Level
Many scholarships for women starting second careers place restrictions on education level of potential applicants. For example, scholarships such as the Charlotte W. Newcombe Scholarship only award scholarship funds to mature women seeking a bachelor's degree. The Evangelical Lutheran Church of America states that women seeking two-year degrees from colleges or professional schools are not eligible to apply for their Herbert W. and Corinne Chilstrom Scholarship. Moreover, applicants must prove they have experienced an interruption in their education no less than five years within submitting their application. Students who apply to the NYSID Keith Bjes Scholarship must be enrolled in their interior design program full-time.
Geographic Location
Scholarships for women looking to start a second career may include geographic restrictions. For instance, although the Charlotte W. Newcombe scholarship offers financial aid to women changing careers, funds are limited to students attending universities and colleges in New Jersey, Washington, D.C., Maryland, New York City and Delaware. Other scholarships are limited based on institution. For example, the Keith Bjes Scholarship is only offered to women attending NYSID in New York.
References
Writer Bio
Bridgette is an aspiring yogini, newbie coder and seasoned marketing writer in the higher ed space. She's written hundreds of articles on a wide range of topics including, entrepreneurship, K-12 pedagogy and information technology. Bridgette's work has appeared on Connect: IT at NYU, Noodle Pros, QuickBooks Small Business Center, Trails.com and USA Today.