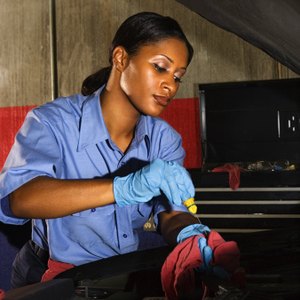 •••
Jupiterimages/Comstock/Getty Images
Women in mechanic vocations have selected scholarship options from which to choose, depending on their specific areas of study. The automotive industry is a major employer. Female auto mechanics also work in the aviation and aerospace industries, for example, and in companies and corporations that require the services of mechanical engineers. Scholarships are available through professional organizations, commercial sources and even unexpected sources like a postal workers union.
Automotive Women's Alliance Foundation
The Automotive Women's Alliance Foundation (AWAF) offers college scholarships that assist the advancement of female automotive professionals in automotive-related fields. Applicants must be North American citizens and maintain a 3.0 grade point average (GPA). Applications call for a cover letter, resumes with education, work and extracurricular details, transcripts and the option to include letters of recommendation. As of 2010, the value of the scholarship was $2,500.
Car Care Council Women's Board
The Car Care Council Women's Board Scholarship program is a collaboration with the Global Automotive Aftermarket Symposium (GAAS) scholarship program. Awards go to female students who plan careers in the automotive aftermarket. Applicants must have a minimum 2.5 GPA. High school applicants must plan to attend an ASE-certified (National Institute for Automotive Service Excellence) post-secondary automobile technology program. Technician applicants must have one completed year at an ASE-certified, post-secondary automotive technology program. As of 2011, the high school scholarship value was $1,000. The value of one of two technician scholarships was $2,500 plus a trip to the Automotive Aftermarket Products Expo (AAPEX) show in Las Vegas. The other technician scholarship had a value of $1,000.
Women's Automotive Association International
The Women's Automotive Association International (WAAI) is a global organization working in the interests of the industry and its leadership. The International Scholarship program is for full-time and part-time students pursuing automotive-related studies and careers. It is open to all WAAI members and their immediate families and to the employees and immediate families of WAAI-sponsoring companies.
American Postal Workers Union
High school senior female auto mechanic students are eligible for the American Postal Workers Union (APWU) Vocational Scholarship, which provides for specialized training. As of 2011, the maximum value of the scholarship over a three-year period was $3,000.
Rotary District 6440
Rotary District 6440 features a Vocational Scholarship Program for which full-time women students who are permanent residents in the district are eligible. Applicants must be sponsored by a Rotary District 6440 club and enrolled at an accredited school for associate degree, diploma or certificate studies. Applications must include school grades and honors, letters of recommendation, details of extra curricular activities, community service and competition awards.
Women in Aviation International
Scholarships for studies and careers in the aviation and aerospace industries are available to members of Women in Aviation International (WAI). Applicants must submit a resume, letters of recommendation and a 500-word essay. WAI scholarship values are undisclosed.
Society of Women Engineers
Mechanical engineering scholarships are among the awards available through the Society of Women Engineers (SWE). SWE awards include undergraduate and graduate scholarships for engineering courses of study. As of 2011, scholarship values were between $1,000 and $10,000.
References
Writer Bio
Based in Northern California, Maureen Katemopoulos has been a freelance writer for more than 25 years. Her articles on travel, the arts, cuisine and history have appeared in publications such as "Stanislaus Magazine," "Orientations," "The Asia Magazine" and "The Peninsula Group Magazine." She holds a Baccalaureate degree in journalism from Stanford University.