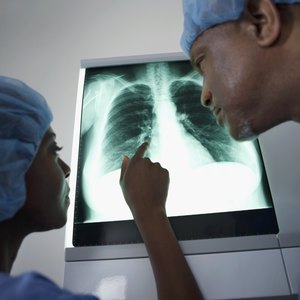 •••
Medioimages/Photodisc/Digital Vision/Getty Images
Radiologic technologists are professionals who operate radiologic medical devices such as CT scanners and MRI machines. Radiographers are radiologic technologists who specialize in taking X-rays. A career in radiography typically requires an associate or bachelor's degree. (Technologists must be certified in most states, although requirements vary by state.) Luckily, there are many sources of scholarship assistance that can help radiography students pay for the high cost of college.
ASRT Foundation
The foundation of the American Society of Radiologic Technologists is the premier source of national scholarships for students in the radiologic sciences. It currently offers several awards, including the $2,500 Jerman-Cahoon Student scholarship. Radiography students who belong to a minority population are eligible to apply for the $4,000 Royce Osborn Minority Student Scholarship. To be eligible for an ASRT Foundation scholarship, an applicant must be a citizen or permanent resident of the United States and have a grade point average of 3.0 or higher.
Allied Health Scholarships
Along with such varied medical professionals as dental hygienists, surgical techs and paramedics, radiographers are considered to be allied health professionals. This makes radiography students eligible for allied health scholarships, such as the $2,000 Allied Health Award made available by Pearson Higher Education. Another is the scholarship program administered by the Association of Schools of Allied Health Professions, which provides up to $1,000 for a student who has successfully completed at least one semester in a post-secondary allied health program.
Hospital Scholarship Program
Hospitals and other health care facilities sometimes sponsor scholarships for allied health students. For example, Miami Children's Hospital offers a scholarship program specifically for students pursuing certification in radiography, with preference given to MCH employees and their families. The Cleveland Clinic offers the Robert D. Kruse Memorial Scholarship in amounts of up to $5,000 to allied health students who are not current employees but would consider employment with the clinic upon graduation.
School-Based Scholarships
Many schools offer scholarships specifically to attending students, so it's always best to start with your own financial aid office. For example, the University of North Carolina School of Medicine offers several scholarships to students in radiologic science programs, such as the Buddy Clark Loyalty Fund Radiologic Science Scholarship and the Joseph Taylor Radiology Student Assistance Fund. Armstrong Atlantic State University in Savannah, Ga., offers the Donald Starr Radiography Scholarship in amounts ranging from $250 to $1,000 to attending students based on their need.