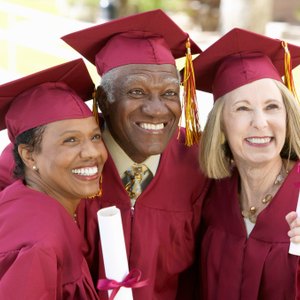 •••
Digital Vision./Digital Vision/Getty Images
Students who are over 50 years old have few opportunities to earn a scholarship for higher education compared to younger students but there are some scholarships available for this age group. Sponsors of scholarships for mature students include a professional organization, a crafts school and colleges, each with specific criteria for their scholarships.
Adult Students in Scholastic Transition
Nontraditional students are eligible to participate in the Adult Students in Scholastic Transition (ASIST) program. The program provides assistance to adults who are at "transitional points in their lives." This could include single parents, individuals entering the workforce for the first time or displaced workers. Executive Women International's (EWI) local chapters work with educational providers and social service agencies to locate candidates who qualify for the program. The amounts offered vary according to the chapter; however, the corporate level of the organization offers 12 scholarships as of 2010 with a value of $2,500 each.
Adventures in Education
Adventures in Education offers the Adult Learner Scholarship for students who are between the ages of 24 and 80. Applicants must be pursuing their first or second semester of college or returning to college after an interruption of at least three years. Missouri State University sponsors this scholarship. As of 2011, the value of the award was $300.
Penland School of Crafts
In Penland, North Carolina, the Penland School of Crafts promotes individual and artistic growth through crafts. Among the awards available at Penland is the Mendes Family Scholarship Fund, which provides a full scholarship for a student who is 50 years of age or older "seeking a personal or professional creative renewal." Jenny Mendes, who established this endowment fund, was a student and resident artist at Penland. The Elizabeth Brim Scholarship Award offers a full scholarship for a woman 40 years of age or older who is "seeking a transformative creative experience." The scholarship values of these scholarships are undisclosed.
City College of San Francisco
The City College of San Francisco offers the Minnie F. Reidy Liberal Arts Endowed Scholarship. Applicants must be 50 years of age or older, enrolled at the college for a minimum of six units and have completed six college units in humanities, literature, philosophy, political science, history, the study of language and culture, art history, music theory, mathematics, biological sciences, social sciences or earth sciences. As of 2010, the value of the scholarship was $300.
References
Writer Bio
Based in Northern California, Maureen Katemopoulos has been a freelance writer for more than 25 years. Her articles on travel, the arts, cuisine and history have appeared in publications such as "Stanislaus Magazine," "Orientations," "The Asia Magazine" and "The Peninsula Group Magazine." She holds a Baccalaureate degree in journalism from Stanford University.