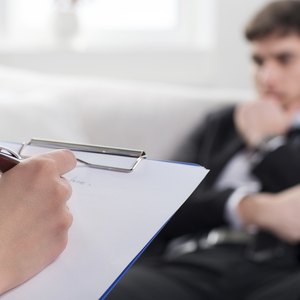 •••
alexsokolov/iStock/Getty Images
Mental health counselors perform a wide range of services that range from assessing and diagnosing patient problems to helping patients resolve issues. Some counselors specialize in crisis management or more specific areas like addiction counseling. Job opportunities for counselors exist in many settings, including schools, military facilities, community clinics, hospitals and prisons. Many schools offer scholarships to students in their own programs, but scholarships are also available from outside public and private sources.
Violet and Cyril Franks Scholarship
The American Psychological Foundation annually awards the Violet and Cyril Franks Scholarship to a student interested in using psychology to help mitigate the stigma of mental illness. Potential recipients are students who show an interest in developing strategies to improve public understanding of mental illness and who will work to decrease the discrimination suffered by some patients. Full-time students in good standing at an accredited graduate school are eligible to apply for the $5,000 scholarship.
Master's Degree Scholarship in Psychology and Counseling
DegreeDirectory.org awards one $500 scholarship annually for master's-level degree work in a variety of counseling disciplines, including counseling psychology, guidance counseling, clinical psychology, marriage and family counseling and mental health counseling. Applicants must be full-time students at an accredited school during the academic year the scholarship is awarded to be eligible. DegreeDirectory.org awards the scholarship based on applicant academic records, extracurricular activities and employment history. Student financial need does not play a role in selection.
Donald Mattson Scholarship
The American Mental Health Counselors Association annually awards one student the Donald Mattson Scholarship. The scholarship recognizes students for exceptional academic performance, excellence in counseling and outstanding writing contribution to the field of mental health. Applicants must have at least a 3.0 GPA and be enrolled in a graduate counseling program to be considered. The application requirements include a nomination letter from a faculty adviser and an endorsement letter from the applicant's state chapter of the AMHCA.
NAJA Scholarship
Students pursuing graduate studies in fields that address the specific mental health needs of children and youth may qualify to apply for the scholarship awarded by the National Association of Junior Auxiliaries, Inc. The scholarship is awarded yearly in April and the application process closes February 1. Applicants must be United States citizens and permanent residents of a state with a Junior Auxiliary Chapter. States with a chapter are Alabama, Arkansas, Florida, Louisiana, Mississippi, Missouri, Tennessee and Texas. Applicants must be attending or planning to attend a U.S. college or university, and may be full- or part-time students. Applicants holding a NAJA scholarship may reapply for the subsequent year.
References
Writer Bio
Kimberly Heffernan has taught in public schools for 25 years. Her professional works include numerous curriculum documents and project proposals. She holds a Bachelor of Arts in English from UT Austin and a Master of Education from Sam Houston State University and credentials to be a school counselor.