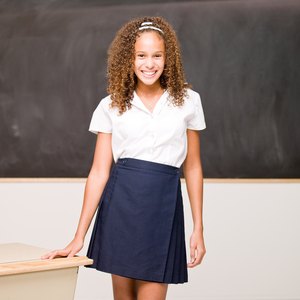 •••
Jupiterimages/Photos.com/Getty Images
Many parents cringe when they see tuition prices at prep schools today. Some schools, especially boarding schools, are more expensive than even the top colleges and universities. However, just because you do not come from a wealthy family does not mean you cannot attend these schools. Many scholarships are available, both internally and through scholarship organizations. The key is finding out what scholarships are available and actually submitting an application. Remember, many times you can't earn a scholarship if you don't apply.
Contact the financial aid department of the prep school you or your child wishes to attend. Most schools have internal scholarships that are awarded to individuals. Some schools may award merit and athletic scholarships based on grade school achievements alone (without requiring an application). Other schools may award these scholarships, but require that you apply to be considered. If no scholarships are available from within the school, ask for a list of external scholarships that the school's financial aid department recommends.
Search for prep school or private school scholarships online. There are many websites devoted to listing scholarship opportunities and organizations for students wishing to attend prep school. Many scholarships are reserved for minority or underprivileged students. Some scholarships are open to all applicants, while others may have criteria for whom they award scholarships.
Visit Finaid.org to learn about the different types of scholarships available for private and prep schools. The website gives information on schools from kindergarten to 12th grade, meaning the scholarship information is not limited to just high school students. Two of the more prominent organizations that Finaid.org discusses are the Jack Kent Cooke Foundation and Children's Scholarship Fund. These organizations offer financial aid to low- and moderate-income families to ensure that children get the opportunity to attend private schools at an affordable cost.
Market your abilities or your child's abilities. While people generally do not want to brag about themselves, you are far more likely to earn a scholarship if the people giving scholarships are aware of your abilities. If your son or daughter has athletic ability, send some game footage to your prep school's athletic director to see if they are interested. If you or your child is artistic, send a portfolio of some original work.
Read all scholarship details before accepting any offers. Occasionally, scholarships come with conditions. Some conditions include maintaining a minimum grade point average, while others may only offer financial assistance for one year. You do not want to get in a situation where your scholarship disappears or expires and you or your child must decide to transfer schools or plunge into debt.
References
Writer Bio
J.M. Soden has been a freelance writer since 2005. He primarily writes sports articles but also enjoys writing about travel destinations, legal matters and electronics troubleshooting. He holds a Bachelor of Arts degree from the University of Notre Dame in American studies.