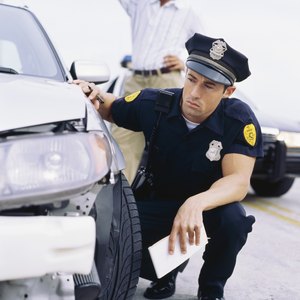 •••
George Doyle/Stockbyte/Getty Images
While getting in an accident can be a traumatic event, dealing with insurance companies can cause a major headache. You probably feel like you're not on equal footing, and they have all the cards in their hands. While each state has its own insurance commission or other regulatory agency that establishes laws about insurance claims, you generally have several rights that protect you during the claims process.
Denial of Claim
You have a right to know why a denied claim was rejected. This information must be in writing and must be sent promptly. In Texas and California, an insurance company must contact you within 15 days to notify you that it has received your claim information and to request any additional information that is reasonably related to processing your claim. After the insurance company receives this information, it has another 15 days to approve or deny your claim in writing. In extenuating circumstances, this time limit can be extended to up to 45 days in Texas and Kansas.
Settlement
You have the right to reject any settlement offer that you believe is not fair. If a vehicle accident resulted in a total loss, the settlement has to include taxes, license and transfer fees. To determine the fair market value of a vehicle -- the price a willing buyer would pay a willing seller for the vehicle -- the insurance company may utilize professional dealer association used car guides.
Choice of Repairs
Generally, you have the choice of where to have your vehicle repaired. California and Texas preclude insurance companies from requiring where vehicles should be repaired. Some states do not allow insurance companies to refer an insured to any particular repair shop unless the insured specifically asks for a recommendation.
Bad Faith
Some states allow consumers to receive additional damages if the insurance company acts in bad faith. Bad faith might include conduct such as deliberately misrepresenting facts to avoid payment, deliberately misinterpreting policy language to avoid a claim, making unreasonable demands for proof of loss, failing to thoroughly investigate the claim, or abusive tactics to settle the claim. Texas provides 18-percent annual interest and attorney's fees if the insurance company fails to meet required processing times and payment deadlines.
Cancelation or Refusal to Renew Policy
States prohibit insurance companies from cancelling your insurance policy while you are insured. For example, Virginia prohibits an insurance company from cancelling an insurance policy unless the insured misses a premium payment, has his license revoked, or moves out of state. Some states prohibit insurance companies from refusing to renew your policy for certain reasons. For example, Texas prohibits this conduct if the insurance company uses a weather-related claim, claim regarding flying debris, towing claims, or any claims that were not your fault as a basis for not renewing your policy. Virginia requires a 45-day notice to be sent to insured individuals before a policy can be canceled or not renewed.
References
Writer Bio
Samantha Kemp is a lawyer for a general practice firm. She has been writing professionally since 2009. Her articles focus on legal issues, personal finance, business and education. Kemp acquired her JD from the University of Arkansas School of Law. She also has degrees in economics and business and teaching.