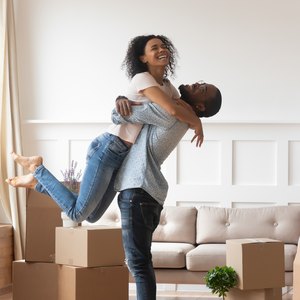 •••
fizkes/iStock/GettyImages
Buying a house is no doubt a very exciting time, but it can also be a hassle if you don't have all of your ducks in a row. You'll have to jump through more than your fair share of hoops before you finally get the keys, however, if you're armed with a little foreknowledge of the requirements to buy a house before you begin searching for your dream home, you'll ensure that the whole process goes smoothly without a hitch.
A Decent Credit Score
As with many things, when you're trying to buy a house, you'll need good credit. Because most lenders aren't in the habit of taking on high-risk borrowers, you're better off applying for a loan once you have your credit report in order. Your credit score is an indication of how likely you are to repay your mortgage. If you have a few dings on your credit, or a low score, your lender may give you a higher interest rate or deny your loan application altogether.
Depending on the type of loan you're trying to get, you can expect to need a credit score of ​at least 580​ for an FHA loan requiring 3.5 percent down, up to a ​minimum credit score of 620​ to qualify for a conventional loan. VA loans, on the other hand, have no official minimum credit score requirement, although most lenders will require borrowers to have at least a minimum credit score of 620.
It is important to note that credit score minimums vary and many lenders do take several factors into account such as income, other assets and employment history. You can also find lenders willing to work with borrowers who have lower credit scores, but be careful. You will likely find yourself in a subprime loan paying a substantially higher interest rate than if you waited and improved your credit before buying.
Solid Work History
Your work history is important for securing a home loan because a solid employment history shows your lender that you have demonstrated your ability to stay gainfully employed and will be able to repay your loan in a timely manner. At least two years of steady employment, with the same company, is a must with most lenders. Also, being a W-2 employee, versus an independent contractor or someone working on commission-only jobs, is considered more favorable with lenders.
Independent contractors are viewed as higher risk borrowers by lending institutions because their paychecks or pay periods may not be consistent. However, being a gig worker isn't a deal-breaker – you will simply have your last two years of tax returns averaged to find out your average annual income in place of needing to supply W-2s.
Savings and Down Payment
There used to be a time where it was expected for borrowers to come up with 20 percent for a down payment. Fortunately, there are loan programs available that require no or low down payment. For example, as long as you have a ​credit score of at least 580​, you can get an FHA loan that requires you to only put down ​3.5 percent​ of the purchase price. But, if you can put 10 percent down, you can get an FHA loan with a credit score ​as low as 500​. Conventional loans will require higher credit scores and ​5 percent to 20 percent down​ depending on the loan product.
There are also requirements on where this down payment money can come from or how long the money had to have been in the account before being used as a down payment, and this varies by the type of loan you're trying to get. In most cases, the down payment will need to come from your savings, 401k, IRA or similar investment accounts. Also, depending on the loan, all or a portion of your down payment can come in the form of a gift from someone such as a relative.
Acceptable Debt-to-Income Ratio
A major requirement often overlooked by would-be home buyers is their debt-to-income ratio or DTI. Your DTI is a simple calculation of your total monthly debts divided by your total pre-tax monthly income, and there are two types of debt-to-income ratios – the front-end and back-end. Your front-end DTI is ​only​ everything you will have to pay monthly as a homeowner such as projected monthly mortgage payment, any homeowners association fees, homeowners insurance or property taxes divided by your monthly pre-tax income.
Next, is your back-end ratio, which is ​all​ of your other debts such as car payments, student loans and credit cards ​with​ your home-related expenses factored in; this represents your total monthly debt. Your back-end DTI ratios help the lender determine how much home you can afford, and if this number is too high, you likely won't qualify.
Ideally, you'd like to keep your back-end DTI ratio at ​41 percent or lower​ to qualify for a home loan. Keep in mind, this is not a requirement that is written in stone, and some lenders require a back-end ratio of ​36 percent or less​. Underwriters have a lot of leeway to make exceptions to this and other rules if extenuating factors in your loan package make you a good candidate. FHA lenders, for example, are often more lax when it comes to approving loan applications with higher DTI ratios than conventional lenders.
Current Pre-Approval Letter
Another requirement to buy a house that is often overlooked is the pre-approval letter. You can get a pre-approval letter from a lender who will pre-qualify you for a home loan. This means that the lender has run your credit, verified your employment history and financial documents and has made a decision that you are qualify for a loan with the institution.
Without a pre-approval letter, you may not have a clear idea of just how much monthly mortgage you can afford, or in what price range you should be looking. In fact, many real estate agents won't show a property to potential buyers who don't have a pre-approval letter, and many sellers won't entertain or accept offers from interested parties who don't have pre-approval from a lender.
Before going to different lenders to get pre-approved, you need to remember that each lender will pull a copy of your credit report which could lower your credit score. Also, pre-approval letters are not indefinite, so only get pre-approved if you're serious about purchasing a new home soon.
References
Writer Bio
Tara Thomas is a Los Angeles-based writer and avid world traveler. Her articles appear in various online publications, including Sapling, PocketSense, Zacks, Livestrong, Modern Mom and SF Gate. Thomas has a Bachelor of Science in marine biology from California State University, Long Beach and spent 10 years as a mortgage consultant.