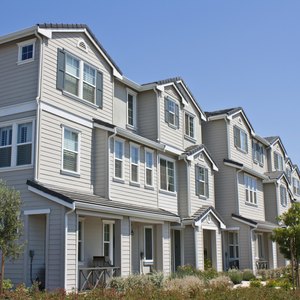 •••
pbk-pg/iStock/Getty Images
Some aspects of condo living -- shared walls, a homeowners association and shared ownership of common areas -- can increase the cost of owning a condo and make financing risky for lenders, thus tricky for you. Although you can contribute the same down payment for a condo as you would for a detached single-family home, you may find that higher interest rates and stricter guidelines apply to condos.
Factors Affecting Condo Down Payments
Your down payment is mainly determined by the loan program. Lenders generally don't distinguish between a detached house and a condo unit when it comes to assigning a down payment. Both are considered one-unit, single-family residences. However, other factors affect your down payment requirement for a condo, including:
your credit score
interest-rate type -- fixed or adjustable
use of the condo as your primary residence, an investment or second home
Your down payment is the difference between the home value and the amount a lender is willing to finance, a percentage known as loan-to-value. For example, if the condo's appraised value is $200,000 and your lender can finance a maximum loan amount of $160,000, your down payment is $40,000. Forty thousand dollars equals 20 percent, therefore, your LTV is 80 percent.
Typical Down Payments for Conventional Loans
Conventional loans, most of which adhere to Fannie Mae and Freddie Mac guidelines, come with down payments as low as 3 percent. As of the time of publication, first-time buyers who purchase a condo as their primary residence and complete homebuyer education qualify for this down payment. Buyers who use the condo for investment purposes or as a secondary residence may require 10 percent to 25 percent down, depending on the loan type and whether it's a Fannie or Freddie program. For example, payments on fixed-rate loans don't change, as opposed to adjustable-rate mortgage payments which is why ARMs may require a higher down payment.
Down Payments on Federally Backed Loans
Government-backed loans offer low or no down payment options for condo buyers. The Federal Housing Administration requires 3.5 percent down for borrowers with scores of 580 or higher. It requires 10 percent down for borrowers with credit in the 500 to 579 range. However, many FHA lenders do not finance borrowers with scores below 620 or 640, regardless of the down payment amount. Veterans Affairs loans for military service members require no down payment for condo purchases. FHA and VA programs are for condos used as primary residences.
Condo Buying Pitfalls
A condo complex and its homeowners association can affect your down payment options and prevent you from financing a condo altogether. Lenders require certain information to determine the project's financial viability, such as:
annual budget
HOA reserves
percentage of owners who occupy units
pending litigation against the project
project's insurance coverage
percentage of condo owners with past-due fees
Financially unstable HOAs can't always afford needed repairs and expenses, leaving condo owners to collectively foot these bills via increased fees. You can only get an FHA loan on a condo unit if the complex is approved by the Department of Housing and Urban Development. Nonwarrantable projects don't meet Fannie requirements. A bank or other private lender may be willing to finance an unwarrantable condo purchase with a down payment of 50 percent or more, according to Bankrate.
References
Writer Bio
Karina C. Hernandez is a real estate agent in San Diego. She has covered housing and personal finance topics for multiple internet channels over the past 10 years. Karina has a B.A. in English from UCLA and has written for eHow, sfGate, the nest, Quicken, TurboTax, RE/Max, Zacks and Opposing Views.