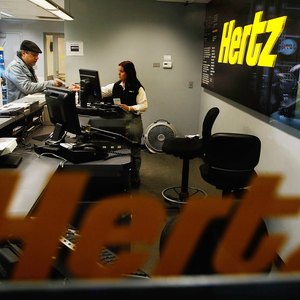 •••
Chris Hondros/Getty Images News/Getty Images
Most rental car companies have adopted policies that allow customers to use a debit card, but also apply restrictions on their use, primarily because debit cards do not offer the companies the same level of security as credit cards. However, debit cards may not be accepted at all the company's locations, so it is important to check with the rental company before leaving home to avoid an unpleasant surprise at the rental counter.
Credit Checks
Some rental companies like Hertz and Avis, notes the website CardHub, require a credit check before allowing a customer to rent a car using a debit card. This is a precaution to ensure the customer has the necessary funds to pay for damages in the event of an accident. If the credit score does not satisfy minimum requirements, the customer will not be allowed to rent the car. It's important to note that credit inquires do appear on a credit report and can temporarily lower a person's credit score.
Deposits
Companies often place a hold on the bank account linked to a debit card of $200 or more. The hold remains until the car is returned. Anyone renting a car with a debit card should be aware of this to ensure sufficient funds are in the account to cover the hold, so the account does not inadvertently become overdrawn.
Additional Identification
A customer renting a car from a rental car agency may be required to show a return ticket, or to provide additional identification such as a passport, U.S. military identification card, current vehicle insurance card, bank statement or a current phone or utility bill. This helps prevent fraud, the companies say.
Rental Length Guidelines
Debit card customers may experience restrictions on the rental period. For example, the Germany-based company Sixt limits debit card customers to rentals for a period of 28 days or less. This restriction is in place to ensure renters keep the minimum required balance to pay for the rental in the bank account linked to the debit card, the company says.
Restrictions on Car Type
Some rental companies offer a limited vehicle selection to customers renting with a debit card. For example, Thrifty does not allow customers to rent luxury cars, SUVs or other specialty vehicles using a debit card. This limits the company's liability if something happens to one of the vehicles and you are unable to pay the damages.