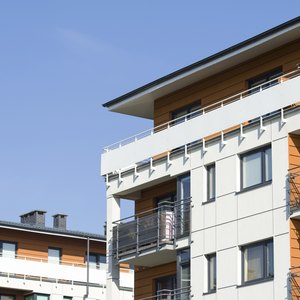 •••
Piotr-Cieszynski/iStock/Getty Images
Offering your furnished house as a corporate rental is advantageous because corporations typically lease the property for definite periods of time, pay rent on time and take responsibility for any breach of obligations during the tenancy. To secure a corporate tenant, there are certain requirements you will need to meet.
Advertise Your House
Advertise your house using reputable and convenient channels that a corporation can easily access. Make it easy for a corporate client to find you by listing your house online complete with photos and a description of the property, amenities and price. Corporatehousingbyowner.com is an example of a corporate housing rental website. Alternatively, you can also list your property with real estate agencies that deal with corporate clients both locally and internationally.
Decide What Type of Rental You'll Offer
Corporate rental come in all shapes and sizes from short-term luxury homes for visiting executives who may be on secondment for a few weeks or months, to longer-term housing for construction workers and project managers who take projects and assignments away from their homes. These groups have different requirements, both in terms of the location and quality of the property and its amenities, and the amount of rent you can charge. For higher-end accommodation, for instance, you might have to provide housekeeping, luxury brands, art work, premium entertainment and tasteful design.
The best advice is to speak to an agent who specializes in corporate rental to get a feel for the type of property that will do well in your area. It may be worth spending money upgrading your property to attract the best-paying corporate clients.
Ascertain Lease Terms
When you receive a viable offer, organize a meeting with an official of the corporation to discuss terms and conditions. Cover key issues such as the rental period, furnishings and amenities available, timing and mode of payment of rent, liability for lost or damaged property and relocation of the tenant before the lease is up. Obtain full details about the corporation including the contact person to communicate with about all matters relating to the tenancy. Keep in mind that the corporation will likely also need to conduct a search on the ownership of your property and require a copy of your identification documents to ascertain that you are the owner before actually agreeing to take up the lease.
Prepare Relevant Documentation
Prepare an appropriate lease for the tenancy. A corporation may require a short-term month-to-month lease for staff on temporary assignment or a longer-term arrangement for those they relocate. Having the lease in writing not only formalizes the terms of the agreement, but it will also become part of the corporation's records for accounting and tax purposes.
Obtain Insurance Coverage
Contact your insurance agency to find out the type of policy you need to cover any liability arising during the rental period. A homeowner's policy only applies when you are occupying the house. Renting your house to a corporation for any length of time is a business activity, which calls for another type of insurance policy such as a liability rider. You may also require the corporation to obtain separate insurance for the tenant's belongings for the duration of the tenancy.
References
Writer Bio
William Dailey is well-versed on local and international affairs with sound financial, economic and business knowledge. He is an MBA and Business Administration graduate from the Kingston University and The London School of Business and Finance, respectively. William has been writing professionally since 2011.