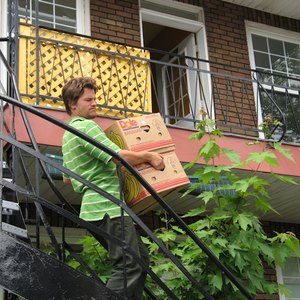 •••
Wikimedia Commons, Claude Boucher
A lot of mixed emotions can be felt when it is time to strike out on your own. While the thought of getting your first apartment is exciting, it can also be a bit scary. It's important to choose a place that will fit into your budget as well as make you feel safe and comfortable. A little extra time spent on research before you make your decision will save you tons of headache and heartache in the months to come.
Set a budget for how much you are able to spend a month on rent. Keep in mind that most apartment owners prefer that your rent is no more than 25 percent of your gross monthly income or 33 percent of your net monthly income. Depending on your other financial obligations, you may want your rent to be even less.
Consider lining up a cosigner in advance. You may not need a cosigner if you have a reliable income and other credit references, but it can't hurt to have one standing by just in case.
Make a list of questions to ask the apartment owner that are pertinent to your situation. If you have a pet, you'll want to be sure that pets are allowed and if an additional deposit or monthly fee is required. You will also want to ask what utilities are included in the rent. Some monthly rates can sound great until you find out about additional charges that you had not planned for.
Check local newspapers and online apartment rental resources to find available apartments in your budget range. You may also want to drive around in the neighborhood you'd like to live and look for signs indicating that an apartment is for rent. Make a list of all the possibilities with contact numbers in your notebook.
Call each of the possible places on the phone and ask your pre-screening questions. Create a short list from all your possible prospects of places that had positive answers to your questions.
Make appointments to view the locations on your short list. Be wary of filling out application forms for all of the locations right away. Many apartment complexes charge a non-refundable application fee. You don't want to pay this unless you are serious about renting the apartment.
Choose the apartments that you would consider renting and rank them from best to worst. Start at the top of the list and fill out an application form. If you don't get accepted, move on to the next one on your list.