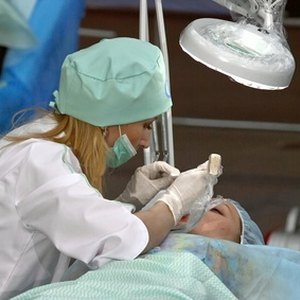 •••
The doctor and the patient image by Vladimir Usatschenko from Fotolia.com
HIPAA and COBRA are acronyms for two laws regarding health insurance for employees who lose their jobs. Employees can use COBRA, the Consolidated Omnibus Budget Reconciliation Act, to continue participating in their employer's group health coverage after losing their jobs. HIPAA, the Health Insurance Portability and Accountability Act, simplifies the task of qualifying for coverage after finding new employment.
Basics
COBRA allows employees to continue participating in their employer's group heath plan for 18 months after separation from employment. Under HIPAA, group plans may exclude individuals based on preexisting conditions for a maximum of 12 months. Plans must reduce the 12-month exclusion period by whatever amount of time the employee previously had continuous coverage, defined as coverage without an interruption of more than 63 days. COBRA thus allows employees to maintain continuous coverage and, under HIPAA provisions, qualify for new group coverage immediately or soon after finding new employment. In 2014, the health-care reform law, officially known as the Patient Protection and Affordable Care Act, prohibits group plans from denying coverage because of preexisting conditions and limits any waiting period for enrollment to 90 days.
Terms
COBRA covers employees of employers with at least 20 full- and part-time workers. Employees are eligible if they lose their jobs voluntarily or involuntarily, with the exception of termination for gross misconduct. Eligible employees may receive coverage for up to 18 months at the same rates that applied during their employment, although premiums may be higher since employers typically pay a portion of premiums for active employees. The maximum exclusion period under HIPAA may rise to 18 months for late enrollees, meaning employees who do not enroll in a group plan when they first have an opportunity.
Considerations
Despite HIPAA provisions, employees may face a waiting period before becoming eligible for new group coverage. Until provisions of the new health-care law take effect in 2014, for example, their prior coverage may not have been long enough to completely negate the exclusion period for preexisting conditions. COBRA may serve as a bridge during the waiting period since it lasts up to 18 months, or longer if the employee has a disability. Employees who enroll in a new plan and want to terminate COBRA coverage may do so at any time.
Procedures
Group health plan administrators must provide employees with a free certificate of creditable coverage when employees lose coverage, including when they exhaust COBRA coverage. Under HIPAA, employees may present this certificate to their new plan administrator to get the reduction on the exclusion period for preexisting conditions. When COBRA expires, HIPAA allows employees a special enrollment opportunity during which they may enroll in a new group plan rather than wait until the next regular period for enrolling. This right applies only to employees who exhaust COBRA coverage, not to those who lose coverage by ceasing premium payments.
References
Writer Bio
Jeffrey Nichols has been writing and editing since 1997. His work has appeared in the "Manassas (Va.) Journal Messenger" as well as daily publications in Pennsylvania and Illinois, covering sports, recreation, health and fitness, along with business and finance. He has a Bachelor of Arts degree and enjoys writing everything from practical articles to fiction.