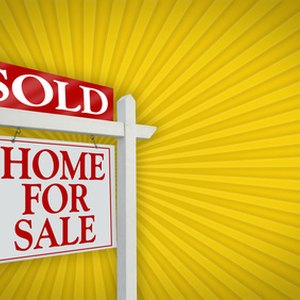 •••
Sold Home For Sale Sign on Burst image by Andy Dean from Fotolia.com
In addition to title and escrow fees and real estate commissions, a home seller in Washington pays real estate excise tax. The homeowner pays the tax when the sale closes; the amount owed is a percentage of the final sales price. Proceeds from the excise tax are deposited into public works and city-county assistance accounts by the state treasurer, according to the Revised Code of Washington (RCW).
Definitions
A sale that is subject to real estate excise tax in Washington is one that includes any conveyance, grant, quitclaim, assignment or transfer of real property for a valuable consideration. Exclusions to this definition include transfers by gift, inheritance, a mortgage to secure a debt and other specific cases. A seller is defined not just as an individual selling a property, but a corporation, association, trust, estate, firm or other group of individuals acting as a unit. The selling price is defined as the total consideration paid to the seller and also as the true and fair value of the property conveyed.
Taxes Due
Each sale of real property is subject to a tax of 1.28 percent of the purchase price, as of 2011. This amount is the minimum collected by the state of Washington and may be subject to additional local taxes. Local jurisdictions are authorized to collect additional funds from real estate sales under the Growth Management Act, according to the Municipal Research and Services Center of Washington (MRSC). Many cities impose an additional quarter percent tax, making the total tax 1.53 percent of the sale price in Clarkston, Moses Lake, Ellensburg and Pullman, for example. A higher rate of 1.78 percent is collected in cities such as Spokane, Tacoma, Seattle and Wenatchee. The highest rate levied in Washington is 2.78 percent in Friday Harbor, a town located in the San Juan Islands.
Exemptions
Certain sales are exempt from real estate excise tax in Washington. Real property transferred to heirs for inheritance purposes is exempt with valid supporting documentation. Required documents may include a death certificate, community property agreement or copies of recorded trusts or probated wills. Sales of standing timber, transportation corridor facilities and other government-owned properties are also exempt from excise tax.
Penalties
If the real estate excise tax is not paid, a specific lien is placed on the property at the time of the sale. The lien remains attached to the property and accrues interest and possible penalties until it is paid in full. The tax is the obligation of the seller, according to Washington state law, and proceedings similar to a mortgage foreclosure may be used by state officials to collect unpaid excise taxes.
References
Writer Bio
Michelle Hornaday lives in Edmonds, Washington and holds a Bachelor of Arts degree in English from Washington State University and a Master of Education from Northern Arizona University. She is currently a freelance writer for various websites.