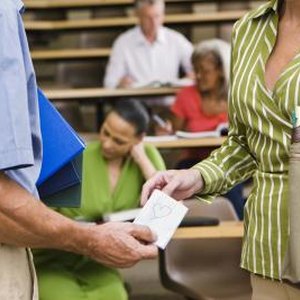 •••
Jupiterimages/BananaStock/Getty Images
College grants, offered by federal and local government agencies, provide financial assistance to help students pay for tuition fees. The most interesting fact about grants is that the money you receive is not to be paid back. Currently, more than 1,000 grant programs are being provided by 26 government agencies like Department of Education. The most popular education grants are Pell Grants, which are provided to undergraduate students. They are also occasionally granted to graduate-level students enrolled in teacher certification programs.
Qualify for Grant Assistance
Step 1
Find out how many grants are available and which ones are most suitable for you. In addition to the Pell Grant, the Federal Supplemental Education Opportunity Grant is also a good option for very needy students. The Montgomery G.I. Bill Grant is only for students who have served in the military. State-based grants are also available, which are based on merit only.
Step 2
Make sure you meet the necessary requirements. In order to qualify for college grants, you have to be a U.S. citizen or an eligible non-citizen. The grants are only offered for an undergraduate degree. You need your high school diploma, and you must demonstrate that you are able to benefit from the grant program. Moreover, you are also required to show the Expected Family Contribution (EFC). For the Federal Supplemental Education Opportunity Grant, you have to be an undergraduate student in dire need of financial aid. Merit-based grants demand certain GPAs and specific income level; the exact requirements vary from state to state.
Step 3
Search for a suitable grant on the Internet. You will find various education grants to head back to school on Grants.gov. You will be required to download the application, fill it out, and submit it online. Most of the grants require the student to file a Free Application for Federal Student Aid (FAFSA). Therefore, make sure that is the first application you complete. By filling out this application, you will be automatically considered for any type of federal grant.
Step 4
Fill out your application in a concise and straightforward manner. State your budget, along with the details on how you are going to use the money. In this way, the funding agency can make sure the grant money goes to the most deserving candidates. If you have received a grant before, you must mention this in your application.
References
Writer Bio
Joanne Cichetti has written articles and Web content professionally since 2009, focusing primarily on health and lifestyle. In order to further pursue her writing career professionally, Cichetti inducted herself in the Long Ridge Writers Group, and she looks forward to having a novel published under their guidance.