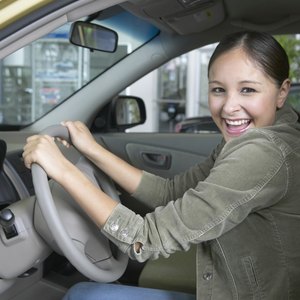 •••
Barry Austin Photography/Photodisc/Getty Images
A shiny new car combined with a comprehensive insurance policy is a recipe for affordable fun. You assume you'll get to enjoy many years of driving in your state-of-the-art vehicle, and if the car is damaged, your insurance company will pick up the tab. For the most part, your assumption is correct, but if you've financed your vehicle and get into an accident within a few years of purchasing it, your coverage might not allow you to repay the auto loan. "Gap" insurance can help you, but you'll see your monthly insurance expenses increase.
Protecting a Gap in Value
Short for guaranteed auto protection insurance, gap insurance covers the difference between your new vehicle's value and what you owe the bank if your car is stolen or completely destroyed in an accident. For example, if you finance a new $15,000 vehicle and get into a car accident two years later, your vehicle may only be worth $10,000, but you could still owe the bank $13,000. GP insurance would cover the $3,000 difference.
Decreasing Worth
According to Edmunds, the minute you drive your new car off the lot, it depreciates -- on average -- by more than $2,500. Because new cars depreciate so quickly, it's likely that you'll owe more than your vehicle is worth if it's destroyed or stolen within the first few years of ownership. For this reason, gap insurance may be a good investment, especially if you've made a small down payment, which could result in a gap of several thousand dollars.
Not Always Necessary
Auto dealerships often try to sell gap insurance as an addition when they process your financing, but you don't always need it. Gap insurance is useless if you purchased your new car with cash. Also, if you've paid a large down payment and it isn't likely that what you owe will exceed the value of your vehicle, you don't need gap insurance. Finally, gap insurance will only be useful for a few years after you've purchased your new vehicle. After several years, there won't be a gap between your vehicle's value and what you owe.
Additional Cost
According to Bankrate, gap insurance doesn't cost much; it's usually about 5 to 6 percent of your comprehensive and collision insurance premium. However, Esurance warns against buying gap insurance from auto dealerships, as it can hike the car's price as much as $1,000 and require a large down payment. Instead, check to see if your car insurance company offers gap insurance. If it does, you might get a discount for bundling policies.
References
Writer Bio
Miranda Morley is an educator, business consultant and owner of a copywriting/social-media management company. Her work has been featured in the "Boston Literary Magazine," "Subversify Magazine" and "American Builder's Quarterly." Morley has a B.A. in English, political science and international relations. She is completing her M.A. in rhetoric and composition from Purdue University Calumet.