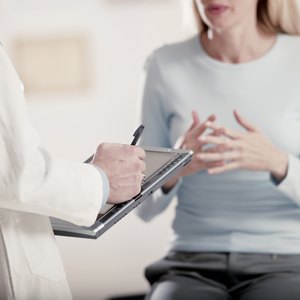 •••
Comstock/Comstock/Getty Images
When you apply for a new health insurance policy at your first job or switch coverage from an employer-provided plan to an independent plan, an existing pregnancy may be viewed as a preexisting condition. However, if you switch from one group plan to another group plan, it can't be viewed as a preexisting condition. Prior to full implementation of the Affordable Care Act on January 1, 2014, your pregnancy may affect your health coverage options more than it would after that date.
HIPAA
The Health Insurance Portability and Accountability Act of 1996 provided additional protection to pregnant women with group health plans. HIPAA lets an insurer exclude coverage for a preexisting condition if you received treatment for it within the past six months, but pregnancy can't be excluded. For example, if you suffer from migraine headaches and received treatment for headaches three months prior to switching plans, your insurer could exclude migraine coverage from your policy. Conversely, if you received prenatal care two weeks before obtaining new group insurance, your pregnancy is covered because HIPAA doesn't view pregnancy as a preexisting condition.
Transitions
HIPAA rules apply to transitions from one group health insurance program to another group plan. If you are transitioning into a new insurance plan from an individual plan or from a period of being uninsured, you may not have access to health insurance for an initial probationary period. This affects your access to covered prenatal care or hospital services. Employers may also require all new employees to undergo a similar probationary period. The Affordable Care Act limits the waiting period for coverage to 90 days, but this portion of the law does not take effect until 2015.
Affordable Care Act Changes
In addition to establishing maximum waiting periods for access to employer-sponsored coverage, the Affordable Care Act also contains other provisions that help pregnant women receive healthcare. When the law takes effect in 2014, you can't be denied health insurance because of a preexisting condition. You also can't be charged a higher premium or have treatment for your existing pregnancy excluded from your coverage. Until the ACA is implemented, women can be denied access to maternity care by an insurance policy or denied coverage entirely based on gender.
CHIP and Medicaid
If you need health insurance coverage for your pregnancy and can't obtain it through your new policy, visit the health and human services website for your state and look into Medicaid and the Children's Health Insurance Program. Both programs offer low-cost or free health insurance to pregnant women with a financial need. For example, in Texas, Children's Medicaid covers a one-person family with a $958 monthly income, while CHIP offers benefits to those with earnings up to $1,915 per month. Both programs cover prenatal care, delivery and two post-delivery doctor's visits for new moms.
References
Writer Bio
Ashley Mott has 12 years of small business management experience and a BSBA in accounting from Columbia. She is a full-time government and public safety reporter for Gannett.