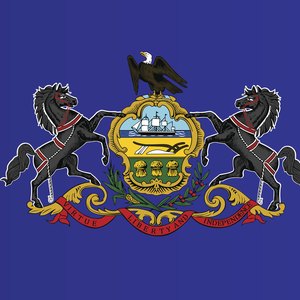 Pennsylvania's laws make it very likely that you'll file a personal income tax return this tax season. However, the state keeps things simple with a single income tax rate and a standard tax form that Pennsylvanians use regardless of residency status.
To make handling your taxes easier, you can sign up for an account on the state's myPath website. There, you can handle PA tax transactions such as filing and paying taxes online, verifying income amounts, determining penalties and keeping an eye on your tax refund.
Who Must File Pennsylvania Income Taxes?
Pennsylvania has strict requirements that mean both resident and nonresident taxpayers may have to file a return in the state even if the IRS doesn't require a federal tax return the same tax year.
For example, if you make enough taxable income that would lead to at least ​$1​ in taxes due, you'd need to file. The state will make you file even if your tax liability would be ​$0​ due to credits, deductions or employee withholding. The state's filing rules usually set the threshold at ​$33​ in taxable earnings. These can come from sources such as capital gains, employment, investment income and contract work.
Even if you don't fall under these guidelines, the state still suggests filing a return to assist with decisions regarding school funding.
What Are the Forms to Use?
The Pennsylvania Department of Revenue requires the same PA-40 tax return form for both residents and nonresidents. However, the state has many schedules you might have to complete depending on your tax situation, income sources and residency status.
For example, you might fill out Schedule A for interest income, Schedule B for dividend income, Schedule C for business income or Schedule D for property sales. You'll also find forms like Schedule G-L for a resident credit, Schedule O for additional deductions and Schedule OC for other credits.
What Is the Tax Rate in Pennsylvania?
Pennsylvanians pay a ​3.07 percent​ state tax rate on their taxable earnings. This rate applies to individual taxpayers as well as several business types besides corporations. The state also offers various deductions, exclusions and tax credits that can save you on taxes.
What Are the Filing Deadlines and Extension Process?
Pennsylvania goes by the federal income tax return filing deadline set by the Internal Revenue Service (IRS). Since the federal tax day (April 15) occurs on Good Friday in 2022, your state return needs to be filed by ​April 18, 2022​, which is the next business day.
You can receive a one-time extension for an extra ​six months​ to complete the Pennsylvania tax filing process by ​Oct. 17, 2022​. Be aware, however, the state keeps the original deadline as your tax payment due date.
The extension happens automatically if you have no state income tax liability and already got a federal extension. Otherwise, you must first pay your state taxes and either request the extension online when you make an electronic payment or fill out Form 276 to send with a money order or check. The paper form would go to the PA Department of Revenue Bureau of Individual Taxes at this address: P.O. Box 280504, Harrisburg, PA, 17128-0504.
What Are the Penalties for Late Filing and Underpayment of Taxes?
Not getting an extension for your Pennsylvania income tax return or filing it after that extended due date results in a late filing penalty. It accrues at a ​5 percent​ rate each month based on how much tax you owe, and it can reach a maximum of ​25 percent​ of your unpaid tax liability. You'll pay at least ​$5​ even if you owe no Pennsylvania income taxes.
Simply having unpaid taxes in Pennsylvania results in a minimum ​5 percent​ penalty. However, this can rise to ​25 percent​ if you misrepresented your income by ​25 percent​ or more or to ​50 percent​ if your negligence caused the underpayment.
If the inability to pay taxes dissuades you from filing on time, note that the state offers a tax forgiveness program that may help. This program can both help you reduce your unpaid tax liability as well as the current year's taxes if you meet the income requirements. To determine your eligibility, you'd fill out Schedule SP when you complete your Pennsylvania income tax return.
Where Do I Mail/E-file My Pennsylvania Return?
By setting up a myPath account at mypath.pa.gov, you can use the state's free electronic filing option. It supports various types of income, tax credits and deductions. You can find other free online tax preparation services that may come with income restrictions, or you can pay for these filing options. If you'd like the most guidance, you can hire a tax professional to e-file your PA income tax return.
​Sending payment voucher​: Payment Enclosed, 1 Revenue Place, Harrisburg, PA 17129-0001
​Requesting tax refund​: Refund/Credit Requested, 3 Revenue Place, Harrisburg, PA 17129-0003
​No refund or tax payment​: No Payment/No Refund, 2 Revenue Place, Harrisburg, PA 17129-0002
How Do I Pay Taxes Due?
You can conveniently make Pennsylvania tax payments by bank account withdrawal or debit or credit card using myPath. If you file online through another service like TaxAct, you should be able to make a payment during the last steps of the filing process.
Alternatively, you can make phone payments by calling ​717-425-2495​ if you're using a bank account or calling ​1-800-272-9829​ if you're using a card (​2.49 percent​ convenience fee required). You can also mail a money order or check to the PA Department of Revenue with the PA-40-V payment voucher.
Where Can I Check My Pennsylvania Refund Status?
To learn about your Pennsylvania tax refund status, you can visit the myPath website and find a "Where's My Refund" link under the "Refunds" heading. The form will ask for your refund amount, tax year and Social Security number and then show you the results, which get updated daily.
Alternatively, dial ​1-888-728-2937​ to check your refund status using the automated system. If you have an issue with your refund, you can call ​1-717-787-8201​ during the ​7:30 a.m. to 5 p.m.​ local business hours to talk to a representative.
You'll usually get your refund within ​one month​ if you e-file and use direct deposit. On the other hand, you might wait ​12 to 14 weeks​ for the PA Department of Revenue to verify your paper return and send you a refund.
What About Pennsylvania Taxes if You're Self-employed?
Many self-employed taxpayers in Pennsylvania will pay the personal income tax rate of ​3.07 percent​ since they operate as sole proprietorships. In that case, you'd also simply file with the usual PA-40 form for individuals. You'd report your self-employment earnings on the state's Schedule C.
What About Pennsylvania Taxes if You're a Business?
If the federal government treats your business as a corporation, you'll pay the corporate net income tax rate of ​9.99 percent​ rather than the ​3.07 percent​ personal income tax rate. Pennsylvania business filers also use different tax forms such as the PA-20S/PA-65 for partnerships and S-corporations or the PA RCT-101 for regular corporations. You can view the PA Department of Revenue's business page for tax information and services.
References
Writer Bio
Ashley Donohoe has written about business and technology topics since 2010. Having a Master of Business Administration degree, bookkeeping certification and experience running a small business and doing tax returns, she is knowledgeable about the tax issues individuals and businesses face. Other places featuring her business writing include Zacks, JobHero, LoveToKnow, Bizfluent, Chron and Study.com.