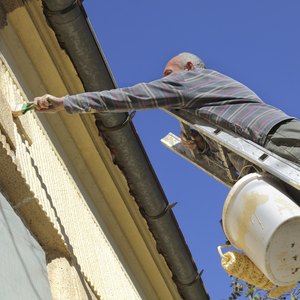 •••
simazoran/iStock/Getty Images
Selling a house should be a profitable venture for a homeowner. In order to maximize the profits on a home sale, you can increase the value of a your property with exterior and interior painting. Paint is a relatively inexpensive way to modernize a home and make it worth more when it comes time to sell.
Curb Appeal
Curb appeal is an important design element to a home resale. Due to the cost-effective and dramatic visual appeal an exterior paint job offers, it is a quick and easy way to provide a positive first impression for potential homebuyers. According to the website HandyAmerican.com, an exterior paint job will increase the current market value of your home up to 200 percent, plus resale recovery. If painting the entire house is not affordable or you have limited time to complete an exterior painting project, you can paint the trim, gutters and window sills to add fresh curb appeal to your home design.
Interior Painting
Painting the interior of your house makes it worth more when you sell your home. In order to make your house appealing to a large number of potential homebuyers, painting interior walls with neutral paint colors is advisable. Neutral colors like white, beige, tan and cream provide a blank canvas for homebuyers. A fresh interior paint job also covers up paint chips, door dings and smudges that have accumulated on your walls over time. Outdated paint colors negatively affect the overall appeal of your real estate property, so a new coat of paint modernizes and updates your home.
Quality of Paint Job
Potential homebuyers want to know that you have taken pride in your home and have worked hard to maintain it. Painting a house increases the value of a home and makes it worth more at resale as long as the quality of the paint job is acceptable. Paint spills, paint drips, brush marks and uneven coats of paint will reduce the visual appeal of your home and potentially decrease its value. Make sure that exterior and interior paint jobs are completed with professional results. High quality paint projects increase the worth of a home.
Market Competition
Painting your house will make your property stand out in a competitive market. A fresh paint job helps your house stand out from the rest. Some home buyers do not have extra disposable income available for home improvements, so a fresh paint job will reduce the amount that the buyer will have to spend in conjunction with the home purchase.
References
Writer Bio
As curriculum developer and educator, Kristine Tucker has enjoyed the plethora of English assignments she's read (and graded!) over the years. Her experiences as vice-president of an energy consulting firm have given her the opportunity to explore business writing and HR. Tucker has a BA and holds Ohio teaching credentials.