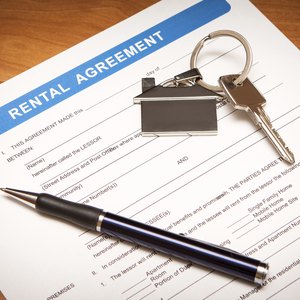 •••
scyther5/iStock/Getty Images
Many people choose to retire outside of their hometowns, maybe to a condo in Florida, a golf course development in Arizona, or a mountain hideaway in the Carolinas. The burning question that many retirees face is whether they should buy or rent their retirement home. This can depend on many factors, particularly your goals for retirement. Factors that weigh in the decision include how long you plan to be retired, which area you plan to live in, and what kind of physical and financial shape you are in.
The Market
It's hard to compare San Francisco to Sarasota, especially when it comes to evaluating the real estate market. The location of your retirement will influence whether it's a better decision for you to rent or buy a home. If you plan to live in a large, expensive city, it might be difficult to find an affordable home to purchase and maintain on a fixed retirement income. If your retirement plan takes you to a small, quiet community geared towards homeowners who are 55 years of age or older, it might make sense to buy.
The Costs
When you buy a house, you have to make a down payment, qualify for a mortgage, and pay for closing costs, appraisals and commissions. When you rent, you need only a security deposit that is often equal to or less than one month's rent. If you are looking for a long-term investment even in your retirement years, AARP recommends buying. If you are expecting to stay in a retirement property for only a short time, renting is a more cost effective option. When you rent, there is always the possibility that rent will be raised. This unpredictability can be a challenge if you are renting because you think it saves you money.
The Maintenance
Homeownership comes with regular home maintenance. When you own a home in retirement, you will be responsible for replacing the roof, fixing damaged appliances, taking care of your heating and cooling units, and making sure everything works well. Unless you have a homeowners association taking care of things, you'll also need to keep up with the lawn care and the landscaping. A renter has fewer maintenance and repair worries. If the toilet starts leaking or a tree falls on your fence, you don't have to do anything except call your landlord. If your retirement goals include less work and more leisure, renting might help you keep your chore list to a minimum.
The Control
When you have specific ideas of how you want to live, owning your retirement home will give you more flexibility. You can paint the walls any color you want, have five dogs and seven cats, and install a swimming pool if the mood strikes you. As a renter, you have less flexibility in how you use your space. You will need to adhere to the stipulations in your lease, but renters have certain attractive freedoms, too. You have the ability to leave at the end of your lease and live somewhere else if you want.
References
Writer Bio
Cari Oleskewicz is a writer and blogger who has contributed to online and print publications including "The Washington Post," "Italian Cooking and Living," "Sasee Magazine" and Pork and Gin. She is based in Tampa, Florida and holds a Bachelor of Arts in communications and journalism from Marist College.