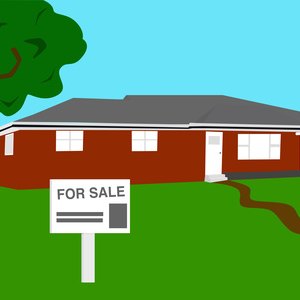 If you're shopping for a new home and come across the one that fits you perfectly, the first thing you'll want to do is get in touch with the real estate agent who's listed it. There are a number of ways to get this information, but the Multiple Listing Service isn't one of them. Detailed information in the MLS, like the listing agent's name and phone number, is available to licensed realtors only.
What is the MLS?
The MLS is an enormous collection of databases used by real estate professionals to make information about their listings available to other realtors. Real estate agents also use it to shop other realtors' listings. It contains a lot of detailed information about each property as well as the listing agent's name and how to contact her.
In the old days, realtors used to meet up to discuss their listings with each other and take fellow realtors on tours of their best listings. Realtors have to split their commissions if another real estate agent sells the property, but 50 percent of a quicker sale isn't a bad trade-off.
Only licensed realtors have access to all of the information in the MLS. In a sense, the listings in it are confidential pitches to other realtors to cooperate and share the earnings for a mutually agreeable transaction.
What MLS Information is Available?
If you're not a licensed real estate agent, you can still make some use of the MLS. But the information you'll have access to is pretty limited. Follow these steps to access public information in the MLS:
Go to MLS.com and click on "Search Listings."
Click on the state where you want to find available properties.
Click on the area of the state you're interested in.
Click on the specific development or neighborhood within the area that you're interested in.
Now you'll be able to see all of the listings in that spot. They consist of one photo and a very short, simple description like "single-family home" or "vacant land." A few listings show the number of bedrooms, the number of baths and square footage, but that's it. Only about half show prices.
Zillow and Trulia
These days most of what's on the MLS's website is also on Zillow and Trulia. These are the two most popular real estate websites. Realtors know that a lot of people start shopping online so many put their properties on these websites. It's easy to find out who the listing agent is on Zillow and Trulia.
For Zillow, simply click on the property you're interested in, then click on the big blue "Contact Agent" button. A form opens up that not only gives you the listing agent's name, it also gives you his phone number and there's a thumbnail photo of him. If you want him to contact you, fill out the form and click on "Contact Agent" again.
For Trulia, the form is right on the main page of each listing below the property photos. From any page that has multiple property ads, click on the property you're interested in then scroll down a bit to the "Request Info" form. Below the red "Request Info" button you'll see a thumbnail of the listing agent. Hover your cursor over his photo and you'll get a pop-up with his name and phone number.
Alternatives for Finding Listing Agents
If the property you're interested in isn't on Zillow or Trulia, you can still find out who the listing agent is by driving over to the property. The listing agent's name and phone number will be on the for sale sign.
Of course, this isn't practical if you're considering a long-distance move, but if you have friends in the area, maybe they will do this for you. Additionally, some realtors erect outdoor brochure boxes on properties they're selling. These boxes hold flyers that give detailed information about the property, including who the listing agent is and how to contact them.
One last thing – if the property is advertised on Craigslist it should have the listing agent's name and contact information in the ad. But sometimes they only give the name of the real estate company. If you see an ad like that just call the company and ask whose listing it is. Happy new home hunting!
References
Tips
Property addresses for large parcels of land are available at the county assessor's office.
Warnings
Beware of dogs when visiting adjacent properties.
Writer Bio
LeDona Withaar has over 20 years' experience as a securities industry professional and finance manager. She was an auditor for the National Association of Securities Dealers, a compliance manager for UNX, Inc. and a securities compliance specialist at Capital Group. She has an MBA from Simmons College in Boston, Massachusetts and a BA from Mills College in Oakland, California. She has done volunteer work in corporate development for nonprofit organizations such as the Boston Symphony Orchestra. She currently owns and operates her own small business in addition to writing for business and financial publications such as Budgeting the Nest, Zacks and PocketSense.