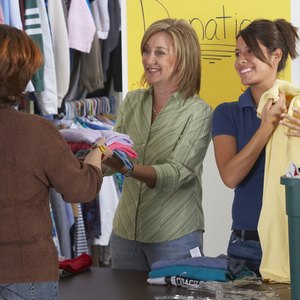 •••
Brand X Pictures/Brand X Pictures/Getty Images
It can be gratifying to clean out closets and unused rooms, but difficult to know where to take items that you want to donate to charity. You also may have trouble fitting all of your donations into the back of a car. It's easier to have a charity come to you pick up useful items. When you know which charities pick up, you can call them and have them come to your home to collect your donations.
The Salvation Army
The Salvation Army offers pickup service in many cities. You can donate furniture, clothing, toys and electronics. They'll even come get your old car. Everything must be in good condition. The Salvation Army sells donated items in its Family Stores, and proceeds benefit the Christian ministry's adult rehabilitation programs. Enter your ZIP code on the group's donation website or call 1-800-SA-TRUCK to schedule a pickup of your items.
Purple Heart
The Purple Heart Service Foundation, the fundraising arm of the Military Order of the Purple Heart, supports and advocates for wounded combat veterans and their families. The organization picks up donations of clothes, cars, boats and recreational vehicles to support its mission. Donors can visit the foundation website to schedule a pickup time and date or to learn more about the process. The driver will leave a receipt for the donation without a dollar amount listed. The organization defers to Internal Revenue Service guidelines and asks donors to determine fair market value for their goods.
Donation Town
If you can't find a charity to retrieve your donations, Donation Town's website will connect you to one. The site links donors to hundreds of charities across the United States and Canada that will pick up donations. Donors can enter their ZIP code, choose from a list of charities in their area and schedule a pickup. The site offers its directory service free to the charities.
America's Car Donation Center
America's Car Donation Center allows auto donors to call its toll-free number and schedule a pickup on the next business day . Donors designate a charity for the donation from a list of hundreds of pre-approved non-profits, from national organizations to local causes, using an online form. The center picks up donations in all 50 states.
Furniture Bank Association of North America
The Furniture Bank Association of North America helps furnish the homes of people living in poverty across the United States and Canada. While the group itself does not schedule pickups, its website lists the contact information for many member banks that will pick up furniture from both residential and commercial donors. The banks accept furnishings for all rooms of the house as well as kitchen appliances, washers and dryers, pots and pans, cutlery and other household essentials.
References
Writer Bio
Kevin Johnston writes for Ameriprise Financial, the Rutgers University MBA Program and Evan Carmichael. He has written about business, marketing, finance, sales and investing for publications such as "The New York Daily News," "Business Age" and "Nation's Business." He is an instructional designer with credits for companies such as ADP, Standard and Poor's and Bank of America.