Open House Ideas for Real Estate Agents
by Narielle Living ; Updated July 27, 2017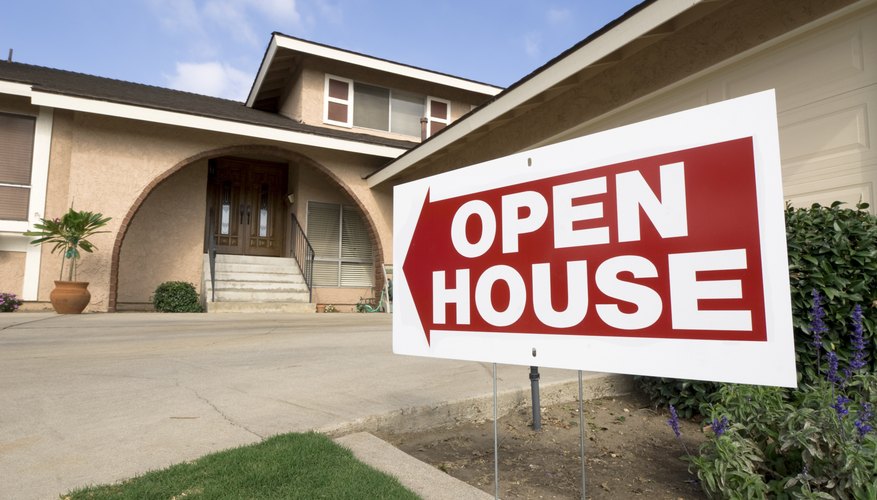 Holding an open house is a wonderful way to attract attention to a home for sale. It is important to set your listing apart from all the others on the market to appeal to buyers. To do this you must create a feeling of hospitality and warmth. Exterior and interior appeal combined with information buyers want to see is a great start to making a sale.
Setting the Stage
There are several key points to remember when holding an open house. First, the house must be ready to show to prospective buyers. Recommend obvious repairs to the seller that will make the home more attractive, such as fixing torn screens, recaulking old bathtubs or freshening old paint. Encourage the sellers to clean and declutter as much as possible. If necessary, advise renting a storage unit for unnecessary items to make the house look more appealing. Finally, be certain the furniture throughout the house is in the best possible arrangement, with no bulky pieces blocking walkways or awkward designs to distract potential buyers.
Invitations
Create invitations for the open house event. Distribute the invitations to everyone in the neighborhood--neighbors may have friends or family who are interested in living in that particular area. Post the invitations on bulletin boards as well as on social networking sites to attract the most attention.
Food
Serve food and drinks that people can carry with them as they wander through the house, such as vegetable platters, cookies, bite-sized appetizers or mini sandwiches. Your choice of paper or regular plates will depend upon the type of house for sale. If you are having an open house at a mid- or low-priced home, paper plates and plastic cups can be used. If the open house is being held at a high-priced home, consider using regular dessert dishes and glassware.
Raffle
Raffles are a fun way to encourage more people to visit. Purchase several household gifts to give away, such as recipe books, ceramic pots, gift cards or gardening utensils. Provide index cards for guests to sign their name, address, phone number and email address. Be certain to inform everyone the date and time of the drawing, as well as when you will be contacting the winners. After the open house, contact all guests to let them know if they won or not and to follow up to see if they had any questions or would like to see the house again.
Neighborhood Open House
Coordinate with other real estate agents who have houses listed for sale in the neighborhood. A neighborhood open house is one in which each available property in the neighborhood holds an open house at the same time, encouraging more traffic and attracting more attention. This also enables agents to pool their resources for combined advertising.
Information
Provide guests with information regarding schools and area businesses. Create an area in the home where people can look at this information and take fliers and information sheets. Consult with a trusted lender and ask if she can create a flier with lending information such as down payment information, current lending rates and estimated monthly payments.
Photo Credits
Joe Belanger/Hemera/Getty Images