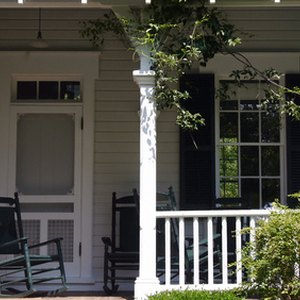 •••
home sweet home image by David Dorner from Fotolia.com
Homeowner insurance protects your house and personal property from loss caused by either a natural disaster or an unexpected event that causes damage. New York State has laws in place to ensure homeowners can access the coverage they need from licensed insurance companies doing business in the state. The New York State Insurance Department is responsible for promoting and enforcing these laws.
Credit Information
New York State Insurance Law provides a number of consumer safeguards insurance companies must abide by when using your credit information to price an insurance policy. First, you must be informed when an insurance company uses your credit information and the credit reporting agency they use. Second, an insurance company must let you know when you could have been quoted a lower rate had your credit score been higher. Third, when an error is corrected on your credit report that results in a higher credit score, you can request your premium be lowered. Fourth, you can ask the insurance company to review your credit information annually, and to adjust your premium if your credit score improves. Last, your credit information can't be used either to terminate your policy or raise your renewal premium rate.
Discounts
By law, insurance companies must provide discounts to homeowners who install hurricane/storm shutters or hurricane resistant laminated glass windows and doors. A discount is permitted, because the homeowner has taken steps to mitigate loss from a hurricane that can cause property damage. If this applies to you, notify your insurance agent who can adjust your policy's premium.
Workers' Compensation Insurance
You wouldn't necessarily associate workers' compensation insurance with homeowner's insurance. However, New York Insurance Law states that an insurance policy issued for a one-to-four family, owner-occupied dwelling that includes personal liability insurance must also include workers' compensation insurance. Workers' compensation coverage would apply to an employee performing work in the residence or on the property less than 40 hours per week. For example, a nanny, domestic helper, or gardener may fall under this definition. It's advised that the homeowner contact their insurance agent to review their policy to ensure it covers this type of work arrangement.
Cancelations
When an insurance company cancels your policy, the insurance company must provide a cancellation notice notifying you of the reason(s) for canceling your policy. In addition, the notice must be provided within the first 60 days of your policy going in effect, otherwise it can't be canceled or renewed for three years, according to state Insurance Law except for certain conditions. The following conditions are allowable exceptions of this rule: nonpayment by the insured; conviction of a crime of the insured; discovery of fraud or deception against the insurer; intentionally misstating information by the insured to the insurer; physical changes to the property to impact coverage limits, and/or if the insurer is found to be in violation of the insurance law.
Excess Line Market
Although it's encouraged that homeowner purchase insurance policies from state-licensed insurance companies whenever possible, there are certain conditions per New York Insurance Law that allows a homeowner to obtain a policy from an unlicensed insurer, also called an excess line insurer. For example, if you've been turned down by three licensed insurance providers for a homeowner's policy, you can use this option. To buy a policy, the homeowner must go through an excess line broker who is licensed in New York. Excess line insurers are not liable for rate and form filing requirements that licensed insurers must abide by. This means that these policies and deductibles may differ from what licensed insurance companies offer, and therefore you'll need to carefully review your benefits. Furthermore, when an excess line insurer goes bankrupt, the homeowner isn't protected under the Property/Casualty Insurance Securities Fund--a guaranty fund that licensed insurance companies are required to pay into. Only homeowners using a licensed insurance company are protected through this fund.
Role of the Insurance Department
The New York State Insurance Department isn't permitted to offer legal advice or recommend insurance companies. It can look into consumer complaints against licensed insurance companies and identify ways to remedy a situation when an insurance company is in violation of the insurance law.
References
Writer Bio
Christie Gross has been writing since 1998. Her work writing public policy platforms for elected officials nationwide has been featured in national and local newspapers under various client pen names. Gross has a Bachelor of Arts in English and political science, as well as a Master of Public Administration from the University of Delaware.