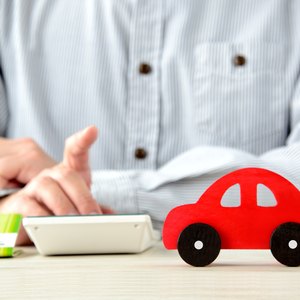 •••
takasuu/iStock/GettyImages
You can save money by buying a used car instead of a new one. But whether you're buying a used car from a dealership or a private seller, it's important to shop around to make sure you're getting a good price. You can negotiate with a salesperson to pay less than the posted price of the vehicle, but there's an art to it.
Understanding Used Car Prices
Car dealerships exist to make a profit. Whether you're buying a new car or a used one, that profit will be built in. A used car business purchases cars both at auction and from private sellers through trade-ins, then puts a price on the car that aims to make a profit. But there are a variety of factors that can influence car price.
The overall market: When the economy is strong, people start spending. If things tighten up, spending reduces. Car lots will often drop prices to encourage customers to buy. If you can afford it, you might get a good deal when consumer spending drops.
Inventory: If new car inventories shrink, often dealerships and lots will rely more heavily on used cars. This increases competition for trade-ins, leading auto dealers to offer top dollar, which, in turn, drives up used car prices overall.
Desired profit: Once a dealer has purchased a car, profit is added to that purchase price. One expert revealed that today's lots strive for a ​$2,500​ used car markup, but obviously that can vary by make, model and the location of the dealership, among other factors.
Market value: Each used car has a value, as logged in a trade publication called the Kelley Blue Book. Dealerships will keep that in mind, along with the desired profit, when purchasing a used car for resale.
Certified Pre-Owned vs. Used
If you're concerned about buying used but you want the cost savings, a certified pre-owned vehicle may be more up your alley. With a certified pre-owned vehicle, the dealership purchases the vehicle and verifies that everything is in tiptop shape before selling it to consumers. A dealership will typically look for low-mileage used vehicles in excellent condition for its certified pre-owned program.
Although the purchase price of a certified pre-owned vehicle may be higher than a used one, you'll often find they come with the perks of a new car. You may get a warranty and be eligible for rebates that wouldn't apply to a used car. The biggest downside is that dealerships typically limit the makes and models in their certified pre-owned program.
Buying Used Cars at Dealership
Used car buying is similar to new car buying in that you'll need to shop around to find the best deal. Like new cars, you can buy used cars at a dealership. In fact, many dealerships keep a selection of used cars on hand to satisfy customers looking for them. You may even find local dealerships don't just have their own make and model, allowing you to shop for used Toyotas at a Hyundai dealership, for instance.
There are some benefits of buying your used car at a dealership. They include:
​Safe test drives:​ You'll want to test drive a vehicle before committing to such a big purchase. At a dealership, you'll know if the employee insists on riding along that you're fairly safe. You may not have that same confidence with a stranger whose car you saw advertised online.
​Trade-ins:​ Many dealerships will offer you a deal on your new car in exchange for trading in your old one. Although you probably won't make as much as if you sold your old car on your own, it is a hassle-free way to make the switch.
​Negotiate price:​ With a dealership, you may be able to negotiate a lower price on the car, especially if you're trading in your previous vehicle or getting financing through the dealership.
Buying Used Cars at Lots
When you think of car dealerships, you're likely immediately envisioning the large dealerships located in almost every midsized to large town. But if you're buying used, you may find better pricing at an independent dealership, also known as a used car lot. Here are some benefits of going with an independent dealer:
​Pricing:​ You may be more easily able to negotiate or make a counteroffer than you would a large dealership.
​Trade-ins:​ Like larger dealerships, you can often sell your existing car to the dealership in exchange for the new one, saving you some money.
​Negotiate price:​ If you know the Kelley Blue Book value and have looked at comparable cars for sale locally, you may be able to negotiate with the lot.
Buying Used From Private Sellers
You can often find great deals on cars for sale through private sellers. Sites like Craigslist and Auto Trader can help you connect with sellers who have used cars in your desired make and model. You can purchase a Vehicle History Report to be certain you know the complete background of the car. Here are some benefits to skipping the car dealership and going straight for a private seller.
​Save money:​ Buying a used car from a private seller can save you as much as ​12 percent​, according to pricing experts. If you're good at negotiating, you may be able to shave even more off that purchase price, although you won't have the power of a trade-in as you might at a dealership.
​Quick turnaround:​ Typically, you can finalize a used car purchase fairly quickly with a private seller. Many are motivated to sell, so you won't deal with stacks of paperwork and multiple visits to a lot.
Spotting a Good Price
The best thing you can do before trying to negotiate is to know a car's market value. You can determine this by searching Kelley Blue Book for the make and model of the vehicle you're eyeing. You'll also need to know the car's mileage and condition.
Once you've gotten a base price, take a look around at what other car dealers are charging for the same make and model nearby. If there are no similar cars for sale in your area, expand your search to get an idea of what the markup is across the country. This will give you a feel for how much wiggle room the dealership might have before it starts to lose money on the deal.
Approaching the Salesperson
You'll get the best price by telling the dealer that you're paying cash when you first visit. You can reveal that you'll be borrowing the money after you've agreed on a price. If you're taking a loan, check with a lender ahead of time to see how much of a loan you can secure. You can also use the interest rate you're quoted to compare against the interest rate the dealership offers you.
For best results, get the car salesperson to state a number first. Let the dealer know that you've done some research into the vehicle price, then ask what kind of deal you can get. You can then state a lower number to see if the salesperson bites. Keep in mind that the dealer will probably make a counteroffer between the original price and the price you state, so aim lower than your ideal amount.
Be Willing to Walk Away
A popular tip for sales professionals is to be willing to walk away. It's the key to winning any negotiation. That goes both ways. As a buyer at a car dealership, the key to winning any negotiation is to be willing to climb into your old car and drive off the lot if you can't reach a certain price point.
This sales tactic is especially valuable later in the process. If you've completed a test drive, asked for a price on your trade-in and shown a readiness to buy, the salesperson is going to be especially eager to bridge the remaining distance to finalize the deal. But you have to sincerely be willing to walk away if you don't get your asking price for this to be effective.
Other Negotiation Points
In the car-buying process, price is only one factor you can negotiate. If the salesperson can't come down to your desired price, consider asking for negotiating these car-purchase perks:
​Warranties:​ New cars typically come with a manufacturer's warranty. If you're buying your used car from a dealership, see if the salesperson will throw in a warranty. Extended warranties can cover some of the repairs, especially if something serious goes wrong.
​Trade-in value:​ If you're trading in a vehicle and the salesperson can't give you the deal you want on your purchase, ask for more money on the vehicle the dealership is buying from you.
​Gap insurance:​ Gap insurance will cover your vehicle if it's stolen or damaged and the cost to repair or replace it exceeds the value. See if you can get a deal on this extra line item.
​Accessories:​ This typically applies to a new car more than a used one. But if you want to upgrade to used vehicle add-ons like an entertainment system, seat fabric protection, anti-theft systems or the like, this could be a good way to get a deal on it. Make sure you know how much these items cost outside of the dealership, though.
Rebates on Used Cars
You'll often see rebates on new cars that can save thousands of dollars. But used car rebates are available, as well. This is typically something you'll see with a certified pre-owned vehicle. Shop around for dealerships that might be offering this type of deal before purchasing from a private seller or buying from a lot that doesn't have rebates.
It's important to note that rebates on the asking price of the vehicle often come with requirements. It probably will apply to specific makes and models, so you might find yourself limited in the used car you can purchase. In some cases, you may be required to get financing through the dealership to qualify, and dealer financing can come with higher interest rates than you'd get through a bank or credit union.
Save on the Auto Loan
Unless you're paying cash for your vehicle purchase, car price is only one way your new wheels can get expensive. Your auto loan can cost you thousands in interest and fees during the life of your vehicle. It's important to shop around and, most importantly, be very wary of financing through the dealership, which can be pricey.
The biggest cost will come with your interest rate. A good credit score is the first important step toward getting a low interest rate, but you should also shop multiple sources, including online lenders, to make sure you're getting the best deal. A down payment can reduce the interest you'll pay, but you should also keep your term as short as you can possibly afford.
Refinancing a Car Loan
If you plan to keep your used vehicle for a while, you may find refinancing your loan is a way to save money. You can't renegotiate your price halfway through your loan, but you can reduce the interest you pay. You'll have already made a dent in the principal, so your loan will be for a smaller amount in addition to the lower interest rate you may be able to secure.
There is something you can negotiate with your car loan, though. If you reach a point where you have the cash on hand to pay off the remainder of your loan, you may be able to negotiate your car loan payoff with your lender. Policies can vary from one lender to another, but it's worth a try even if you aren't sure your bank will go for it.
Car buying can be complicated, but it doesn't have to be. If you're looking for a used car, a little research beforehand can put you in a position to negotiate the purchase price with the dealership or private seller. You'll also need to shop around for a deal on loan interest, assuming you're taking a loan rather than paying cash.
References
Writer Bio
Stephanie Faris has written about finance for entrepreneurs and marketing firms since 2013. She spent nearly a year as a ghostwriter for a credit card processing service and has ghostwritten about finance for numerous marketing firms and entrepreneurs. Her work has appeared on The Motley Fool, MoneyGeek, Ecommerce Insiders, GoBankingRates, and ThriveBy30.