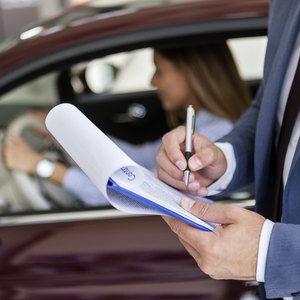 •••
Nastasic/E+/GettyImages
Companies that provide car loans put a lot of emphasis on a potential buyer's credit report and credit history. For the first-time buyer, a lack of previous credit – good credit, that is – can keep lenders from approving a loan without requiring a cosigner. However, it's not impossible to get your first car loan without a cosigner.
Cosigners are often required in situations where individuals cannot meet the criteria established by their lender to assume full responsibility for the loan themselves. A solid credit history and record of income can prove to lenders that you are capable of taking out a loan with a cosigner.
Learn the Basics
Without a credit history to rely on, you have to show you have the funds to make the monthly payments on a loan. First on the checklist is a job and pay stubs showing a regular income. Next is the cash for a down payment. While 10 percent of the purchase price shows you're serious, 20 percent makes a bigger impression on a lender. Finally, look for a vehicle with a low to moderate price tag that will be economical to drive. A 400-horsepower sports car might be fast but it's usually expensive to insure and maintain. Basic transportation is generally cheaper.
Get Some Help
Car salesmen and dealer finance departments might push you to find a cosigner for your loan. Make clear that you want financing on your own and prefer a dealership that can help with that goal. It may take visits to several dealers before you find a more helpful sales approach. If you have a parent, friend or mentor who regularly buys cars from the same dealer, get them to call to help set you up. If you work for a small business that owns vehicles, the owner probably has a dealer contact who might provide an extra level of assistance.
Alternative Financing
You may want to check out some alternate lenders. For instance, a local credit union may offer special loan programs for first-time car buyers. Another option is the finance arm of an auto manufacturer. You may be able to apply online and get approved before going into the showroom. New car financing can be a winner if you're approved and can get a low interest rate. Many of the lenders that will take a first-time, no-cosigner buyer charge high rates for that kind of financing.
Stepping Stone
Look at your first financed car purchase as a vital step toward a life of buying and financing vehicles. If you mess up your credit with the first loan your car-buying experiences will be miserable for years. Try to have sensible goals. If you start with a small loan and pay it off on time, you'll be able to buy a better car with a lower interest rate next time. Buying a $15,000 car with a $12,000 loan can give you a better start than stretching for a $30,000 car and $27,000 loan.
References
Writer Bio
Tim Plaehn has been writing financial, investment and trading articles and blogs since 2007. His work has appeared online at Seeking Alpha, Marketwatch.com and various other websites. Plaehn has a bachelor's degree in mathematics from the U.S. Air Force Academy.