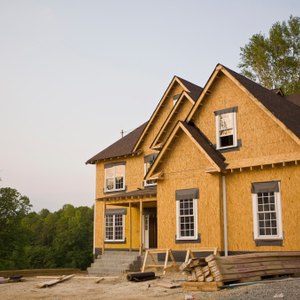 •••
Comstock Images/Comstock/Getty Images
Building a home can be an exhilarating experience. However, it's an experience that can be adversely affected by events out of the homeowner's control. Weather, contractor delays, materials shortages and any number of occurrences can put a home construction project behind schedule. Fortunately, many lenders are accommodating when homeowners ask for an extension of the construction loan term.
Construction Loans Explained
Construction loans are short-term loans that are eventually converted to traditional mortgages. During the construction loan phase, a variable-rate loan or fixed-rate loan is provided to cover the costs of construction, which is paid for in periodic "draws" from the principal. The homeowner and contractor ordinarily work with the lender to establish a construction timeline and a corresponding draw schedule for the project. Most construction loans are established on six-month, nine-month or 12-month schedules.
Asking For an Extension
Most lenders understand that construction on a home project can be delayed by unforeseen variables, such as inclement weather or materials or subcontractor problems. For this reason, many lenders allow homeowners to extend the term of a construction loan to accommodate these delays, as long as the requested extension is deemed reasonable by the lender and does not incur additional expense that cannot be covered by the homeowner or the terms of the construction loan.
Extensions Come With a Price
Although most lenders are willing to work with homeowners for construction loan extensions, that doesn't mean these extensions are free. Most lenders charge a nominal fee for the privilege of extending the loan, usually up to half a percentage point per month. If you've locked in a low mortgage rate for the loan after the construction period expires, an extension may put that rate at risk. Ask your lender how an extension could affect your rate.
Reducing the Need for Extensions
Although construction loan extensions are common enough that there's a standard fee for the service, it helps to eliminate the need for extensions that can further delay your project. One way to do so is to opt initially for the longest construction loan period your lender will allow. There is no penalty for finishing ahead of time. Another is to attempt, whenever possible, to build your home when the factors that can affect your project -- such as weather and contractor availability -- are most favorable.
References
Writer Bio
A writer and information professional, J.E. Cornett has a Bachelor of Arts in English from Lincoln Memorial University and a Master of Science in library and information science from the University of Kentucky. A former newspaper reporter with two Kentucky Press Association awards to her credit, she has over 10 years experience writing professionally.