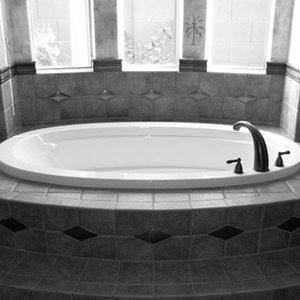 •••
luxury bathroom image by Paul Hill from Fotolia.com
If you are considering adding a new bathroom or remodeling an existing bathroom in your home, cost is probably one of the most relevant factors of your decision. Virtually any type of home improvement project you consider can take a serious chunk out of your budget. When you are considering home improvements like adding or remodeling a bathroom, it may help you to know what kind of resale value you may be adding to your home.
Bathroom Remodeling
The return on investment you can expect to see for a basic home remodeling project may depend in part on the condition of your home overall. If the home is old and dilapidated, remodeling the bathroom alone may not add significant value to the home. According to QualitySmith.com, if you are in the process of taking care of necessary repairs throughout the property, and you include a bathroom remodel as part of the home upgrade, you can expect to see as much as an 80 percent return on your investment.
Bathroom Addition
If you are building a bathroom where one did not previously exist in the home, you may see an even higher return on investment than a traditional remodel. A bathroom addition or home addition that includes a bathroom and another room can automatically increase the value of your home by adding additional square footage along with the inherent value of an additional bathroom. ServiceMagic.com reports that a bathroom addition can increase the resale value of the home by as much as 96 percent of the initial investment.
Master Bath
A master bathroom is a big selling point with most of today's home buyers, and some older homes are not equipped with a master suite. If your home has the space to add a master bathroom to the master bedroom, you may be more likely to receive interest from home buyers when it comes time to sell. A well-designed master bathroom can earn you more than 100 percent of your investment if the new bathroom sets your home apart from others in the area that lack a master suite.
Remodel Wisely
When you build a bathroom addition or remodel an existing bathroom, it's important to invest carefully and remodel for the area. If the home is located in an upscale housing division and the bathroom is significantly outdated, you can expect to see a noticeable increase in the home's value by installing quality bathroom materials like granite or marble. If the home is situated in a transitional community, however, you may be better off sticking with standard materials like fiberglass and laminate.
References
Writer Bio
Sara Melone is a mother of three and a graduate of UNH. With prior careers in insurance and finance, photography, as well as certifications in fitness and nutrition, Melone draws directly from past experience and varying interests. She contributes with equal passion to birth journals, investment blogs, and self-help websites.