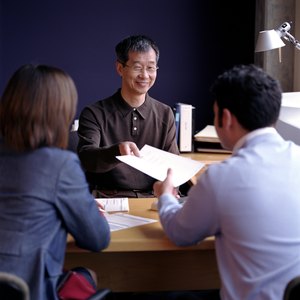 •••
Ryan McVay/Photodisc/Getty Images
The federal government offers various programs to help struggling homeowners make their mortgage payments. Whether you're facing imminent foreclosure or barely staying afloat with your housing payment, a federal, state or local program may be able to help. Your county or state housing agency and your lender can help reduce your overall mortgage balance and payments, or temporarily pay a portion of your mortgage payments until you get back on your feet.
Making Home Affordable Programs
The federal government's Making Home Affordable initiative works with more than 100 lenders to provide principal reduction, forbearance and loan modifications. MHA can lower your interest rate, defer payments if you're unemployed and settle with your second mortgage lender, even if your home's value has fallen significantly.
For example, employed homeowners can change one or more of their loan's terms with the Home Affordable Modification Program on a first mortgage. It permanently reduces payments or otherwise improves repayment terms. HAMP also is available on second mortgages if your first mortgage qualifies. HAMP 2MP can reduce principal or modify a second loan's terms.
Out-of-work homeowners may qualify for the Home Affordable Unemployment Program. Depending on the circumstances surrounding your unemployed status, UP can reduce your mortgage payment to 31 percent of your household's current income or suspend monthly payments for a year or longer.
Hardest Hit Funds for States
The federal government's Hardest Hit Fund provides assistance at the state level for areas experiencing high levels of foreclosure and mortgage default. Each state administers the HHF program through its housing finance agency. Funds may cover all or part of an unemployed homeowners' payments. HHF money also can make a one-time payment lump sum on behalf of a homeowner to reinstate a mortgage. Modification assistance also is available. The fund provides money to pay arrears and penalties so a lender can approve a modification.
Fund Availability Varies By State
Federal money is allocated differently to states, which impacts program availability. For example, the Florida Elderly Mortgage Assistance program provides seniors with reverse mortgages to cover property taxes and homeowners insurance if the reverse mortgage lender paid these bills on their behalf. Keep Your Home California also offers the same reverse mortgage help as a pilot program. However, California offers more funds for mortgage reinstatement, up to of $54,000, while Florida offers up to $25,000. Because funds are allocated differently for all states, assistance amounts and the number of homeowners who receive help may vary. Also, income requirements differ based on median income levels in a given county.
Administering Help At the Local Level
Housing agencies at the local level can help homeowners through foreclosure prevention counseling and free or low-cost legal resources. They can facilitate mediation between lenders and homeowners. Cities such as Chicago also provide grants or low-cost emergency loans to homeowners. In general, you must first speak with a housing counselor and meet the programs income and financial hardship criteria. North Carolina homeowners can receive up to $24,000 or $36,000 in the form of a zero-interest short-term loan depending on the county.
References
Writer Bio
Karina C. Hernandez is a real estate agent in San Diego. She has covered housing and personal finance topics for multiple internet channels over the past 10 years. Karina has a B.A. in English from UCLA and has written for eHow, sfGate, the nest, Quicken, TurboTax, RE/Max, Zacks and Opposing Views.