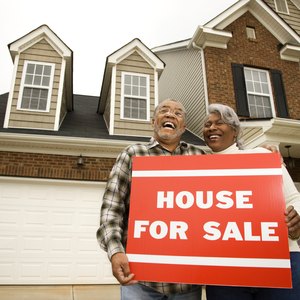 •••
Ron Chapple Stock/Ron Chapple Studios/Getty Images
While urban legends tell tales of real estate disclosure laws preventing the sale of "murder houses" to potential buyers, Michigan's real estate disclosure act is meant to provide important information that may affect the value of a property buyers purchase. While the state's disclosure laws require sellers to inform potential buyers of conditions of the home and types of personal property it contains through a disclosure notice, laws enforcing disclosure aren't as well-defined.
Real Estate Disclosure Rules
In order to provide consumers with accurate and detailed information about homes they wish to purchase, the Michigan Seller's Disclosure Law requires anyone selling a property with one to four homes on it to detail the condition of the buildings, appliances and other parts of the property, such as foundations and roofs. Other information, such as environmental problems and the property's history must also be disclosed if they may affect the well-being of tenants or the value of the home. Disclosures are made in good faith but may later be proven to be knowingly inaccurate, so they aren't necessarily binding.
Real Estate Disclosure Form
The State of Michigan Legislative Council provides a free real estate disclosure statement that addresses all elements of the law. The council designed the form to be processed by homeowners, not building inspectors, and, therefore, is a survey of many of a home's potential problem areas. Sellers certify the condition of interior property and appliances, address the condition of basements and water damage, and whether there are mineral rights and communal property shared with neighbors. The state recommends that buyers hire inspectors trained to evaluate properties.
Availability of Form and Material Changes
The seller's real estate agent must make copies of the property's real estate disclosure form available to the general public. The disclosure statement only requires that the buyer disclose any damages or other problems with the property at the time he made the disclosure statement. If the condition of the property changes after the disclosure statement is complete -- such as hail damaging a roof -- the seller can't be held liable for nondisclosure or misrepresentation.
Damages
The Seller's Disclosure Law doesn't specifically address damages that may arise from improper disclosure information provided about a property. If sellers don't disclose specific information outlined by the law or if they provide information known to be false that leads to injury -- either financial or physical -- for the purchaser, the buyer may seek remuneration through Michigan's standing fraud, nondisclosure and misrepresentation laws, as defined by the state's case history.
References
Writer Bio
Wilhelm Schnotz has worked as a freelance writer since 1998, covering arts and entertainment, culture and financial stories for a variety of consumer publications. His work has appeared in dozens of print titles, including "TV Guide" and "The Dallas Observer." Schnotz holds a Bachelor of Arts in journalism from Colorado State University.