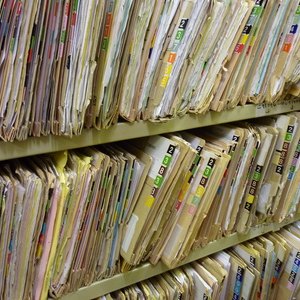 Medi-Cal is a government program that provides medical assistance to low-income individuals and families in California. People who meet the eligibility requirements can get help in paying for doctor visits, hospital stays and other medical treatments.
The qualifications for receiving Medi-Cal are somewhat complex. Contact your local Department of Health Care Services office (see Resources) or submit an application to find out whether you're eligible. The application can be downloaded and printed from the Medi-Cal website (see Resources). Individual counties in California offer other medical assistance programs.
Income and Residency
You must be a resident of California to get Medi-Cal, but you don't necessarily have to be a U.S. citizen. Some permanent resident aliens and refugees qualify for benefits. You must also meet income requirements. For example, if you have a child under 1 year old, you can qualify if you make less than 200 percent of the federal poverty level. Families in which the youngest child is 1 to 6 years old must earn less than 160 percent of the poverty level (see Resources).
Cash Assistance Programs
People who receive cash assistance from certain government programs automatically meet the qualifications for Medi-Cal. If you get money from CalWORKs, SSI or SSP, Foster Care, the Adoption Assistance Program or Refugee Assistance, you're eligible for medical benefits. Some of these programs, such as SSI, sign you up for Medi-Cal as soon as you're approved for cash assistance.
Age
California residents who are under 21 or at least 65 can qualify for Medi-Cal. You might also be eligible if you're the parent or caregiver relative of a child or young person who is less than 21. For you to qualify as a caregiver relative, the child's parent must be unemployed, underemployed, deceased, incapacitated or living in a separate household. In addition to meeting these age or caregiver requirements, you must also qualify as being low-income.
Medical Conditions
Certain medical conditions can make you eligible for Medi-Cal. Low-income individuals who are pregnant, blind, disabled or living in a nursing home or care facility are likely to receive benefits. Special eligibility guidelines apply for people who have tuberculosis, cervical cancer or breast cancer. In addition, there are special benefits available to individuals who need a feeding tube or dialysis.
Assets
Some types of financial assets are considered when you apply for Medi-Cal. One car, a single-family home and property that's necessary to run a business are not counted against you. Additional financial resources, such as savings, investments or additional property, may disqualify you from receiving assistance.
References
Writer Bio
Jennifer Burger has been a freelance writer since 2006. Her experience includes producing web content and creating marketing materials for small businesses. Burger's specialty is writing about health and parenting, but she has articles published on a wide variety of topics.