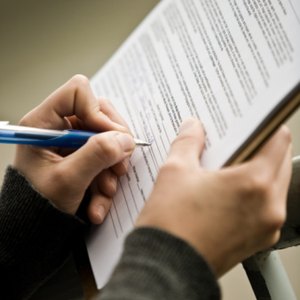 •••
Jupiterimages/Photos.com/Getty Images
When making a contract between a contractor and a homeowner, it's important to be thorough to eliminate potential problems down the road. At a minimum, a good contract will state the identity of the contractor, the homeowner, the address of the property, the details of the project, the completion date and the total cost. Both parties should then sign and date the contract to make it enforceable by law. You may also want to include optional items, such as how the bill will be paid and whether the price is an estimate or an exact amount.
Open a word processing program, click on the "File" tab and select "New." Scroll through the list and click on "Contracts." Scroll through the contracts list and double-click on "Contractor Agreement" or something similar to open the template.
Enter the current month, day and year into the designated spaces.
Enter either the contractor's name or the name of the contracting company into the space designated for the contractor.
Enter the homeowner's name in the space designated for the homeowner.
Fill out the "Scope of Work" section by stating the details of the project, such as who's going to provide the work materials and what aspects of the work will be performed by that particular contractor. You may need to change some of the wording that's pre-populated into the template so it fits better with your needs.
Fill out the "Work Performed" section by listing all of the jobs that will be performed by the contractor. For example, for a bathroom remodel, the contractor may replace the bathtub and shower, refinish the flooring, and tile the walls.
Enter the price of the entire project under the "Contract Price" section. Be sure to indicate whether the price is an exact figure or if it's a variable estimate for the work to be done.
Fill out the "Progress Payments" section if both the contractor and homeowner have agreed to specified payments for materials and labor at intervals during the project. Be sure to include the amounts and the frequency of payments.
Have both the contractor and the homeowner sign and date the agreement to make it legal.