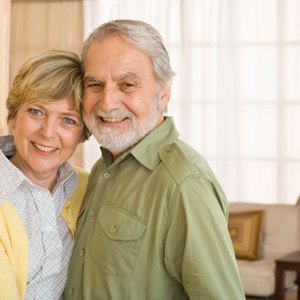 •••
Comstock Images/Comstock/Getty Images
Roughly 8 percent of Michigan's seniors live at or below the poverty line, and Social Security is the only source of income for one out of four Michigan seniors, according to The Elder Economic Security Initiative. As inflation continues to increase the costs of housing, gas, food and prescriptions, more seniors find themselves struggling to pay for necessities. Michigan has helped ease the burden by providing low-income senior housing to its residents.
Housing Choice Vouchers
Housing Choice Vouchers are funded by the federal government and distributed by each state. Michigan offers these vouchers to low-income seniors through Public Housing Authorities. You can find Public Housing Authorities offices throughout Michigan. They determine eligibility for the vouchers by reviewing your income, assets and the size of your household. If you qualify, you can use the voucher toward any rental property you'd like, and the voucher is paid directly to your landlord. You're responsible for the difference in cost.
Home Ownership
Seniors who qualify for the Housing Choice Voucher program may also qualify for the Key to Own Homeownership Program. To qualify, you need to be in good standing with the Housing Choice Voucher program, and you must be purchasing either your first home or your first home in at least three years. To apply, contact Michigan State Housing Development Authority at 517-373-8370 and submit your application. If you're approved, the housing authority will work with you to find a lender and a home.
Finding Affordable Housing
The Michigan State Housing Development Authority has a number of resources to help low-income residents find affordable housing. The Michigan Housing Locator is an online search engine that allows you to search by city, zip code or county, and you can search for apartments that accept Housing Choice Vouchers and/or are senior apartment buildings. You can find this at Michiganhousinglocator.com. You can also contact your county's Department of Aging for information on local apartments and services.
SSI
Very low-income Michigan seniors may also want to look into Supplemental Security Income. SSI provides a monthly benefit that you can use for anything you might need, including rent. To qualify, you need to have limited income and assets (savings). You can have up to $2,000 is assets as an individual or up to $3,000 as a couple. To apply, contact your local Social Security Office.
References
Writer Bio
Melinda Hill Sineriz has been writing professionally for over 10 years. She worked as an editorial assistant for Forward Movement Publications in Cincinnati, Ohio. She wrote for several years for allmusic.com and edited and wrote a chapter for a book with Wooster Press. She graduated from Miami University in Ohio with a Bachelor of Arts in English. She has a master's degree in teaching.