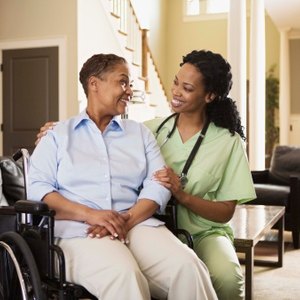 •••
Jupiterimages/Brand X Pictures/Getty Images
Disability brings with it a number of challenges. You may not be able to work or work as much, which presents financial challenges. If you have a condition that makes mobility difficult, you need housing that's accessible and affordable. Washington State has affordable and accessible housing options for its residents. Financial help is also available to assist with other rental properties and ease the high cost of utilities.
Low-income Housing Search
Searching for housing — especially affordable, accessible housing — can be a daunting process. AptFinder.org, a nonprofit organization, helps ease this burden by offering a searchable website of affordable, low-income apartments. You can search by area for disabled housing, and you can narrow the search to apartments that offer specific amenities or a specific number of bedrooms.
Local Services
Washington cities and counties often have local offices and organizations that assist with finding affordable housing. Spokane Housing Ventures, for example, has local listings for apartments and information on their waiting lists. Pierce County's Aging and Disability Resource Center offers information on low-income and subsidized apartments. Contact your local county or city assistance office for resources in your area.
Housing Choice Vouchers
Housing Choice Vouchers are federally funded through the U.S. Department of Housing and Urban Development and distributed through local Public Housing Authority offices. There are Public Housing Authority offices throughout Washington State. Housing Choice Vouchers are paid directly to landlords to cover a portion of the costs of a tenant's rent. Local Public Housing Authority offices decide on eligibility guidelines for the vouchers; generally, though, it's based on your income and the size of your household. Once approved, you can live in any rental property that's approved by the Public Housing Authority as being safe and healthy. Contact your local Public Housing Authority office for more information or to apply.
Utility Help
The Low Income Home Energy Assistance Program is also a federally funded program distributed through local offices. Though the exact assistance varies by locality, this program provides assistance with paying past-due and current utility bills; it also provides crisis funding for emergencies such as having your heat shut off during the winter. Localities often offer both heating and cooling assistance. Funds from this program are distributed to low-income families with vulnerable members, such as children, the elderly or the disabled. For more information, contact your local county or city assistance office.
References
Writer Bio
Melinda Hill Sineriz has been writing professionally for over 10 years. She worked as an editorial assistant for Forward Movement Publications in Cincinnati, Ohio. She wrote for several years for allmusic.com and edited and wrote a chapter for a book with Wooster Press. She graduated from Miami University in Ohio with a Bachelor of Arts in English. She has a master's degree in teaching.