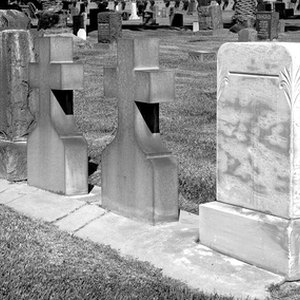 When a person dies and is buried in a cemetery, a marker is typically placed at the grave with the name of the deceased and usually the date of birth and death. The terms used for grave markers include gravestone, marker, memorial, tombstone or headstone monument. Often the terms are used interchangeably, however a headstone monument is defined as a stone that stands upright and sits on a base. The upright is called a tablet. A low-cost headstone can be purchased and delivered to the cemetery.
Price Range
Prices for headstone monuments can range from a couple hundred dollars to thousands of dollars. A traditional monument is a rectangular piece of carved granite that sits on a granite base. The price increases as you add additional features or design elements. For example, an angel holding a heart can cost more than $3,000. If you are seeking a simple remembrance monument, you can expect to pay a few hundred dollars. The simple stones may be more along the line of a marker rather than an upright stone, however, many of the designs are created with attractive features.
Buy Online
In the past, funeral homes have handled the headstone monument as part of the funeral arrangements package. Today, a person can shop around and look for a good deal on a monument. You can seek out a local stone mason or a monument business. You can also shop on the Internet. You can buy direct from the producer of headstones and have the piece shipped to the graveside. If you take advantage of these direct manufacturer offers, carefully check for added expenses. Shipping will be high on a heavy piece of granite and there may be additional handling charges. Verify the total cost before deciding to purchase on the Internet.
Additional Features
Even with a modest monument, costs can increase if you want add-ons to the initial monument. For example, to add additional wording or have a ceramic picture placed on the stone you will be charged. Statements about the deceased, such as "Loving Husband," may add on to the costs. If you shop around, however, some of these extras may be included. If you do choose to purchase a small monument, check with the cemetery as they may have requirements for the size and type of monument.
References
Resources
Writer Bio
Debbie McRill went from managing a Texas Department of Criminal Justice office to working for Compaq and Hewlett-Packard as a technical writer and project manager in 1997. Debbie has also owned her own businesses and understands both corporate and small business challenges. Her background includes Six Sigma training, and an Information Development career with journalism and creative writing as her passion.