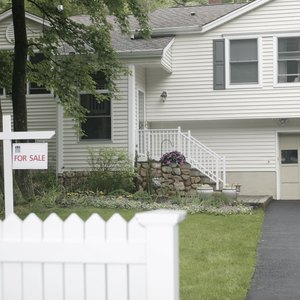 •••
Comstock/Comstock/Getty Images
Home appraisals can go stale because they report a property's value at a point in time. The older an appraisal gets, the greater the odds that the home's value has changed for better or worse.
As a homebuyer, your concern is that the appraisal you pay for is accurate and timely so that you don't pay too much for the property. Sellers want appraisals to mention all the improvements they've made to the home. Mortgage lenders want both precision and comprehensiveness so they don't lend more money than permitted by their underwriting rules.
How Long Are Appraisals Good For?
Ultimately, it's up to the lender to set its rules regarding appraisal age. The acceptable timeliness usually ranges from 90 days to six months. Lenders may require an updated appraisal once an appraisal reaches a specified age.
Buyers have a few options when an appraisal reaches its age limit:
‌Request an‌ ‌extension from the lender‌: Ask the lender to review changes to market conditions and other factors to see whether a new appraisal is necessary. In calm markets, you may receive extensions of 30 days or more.
‌Request an appraisal update from the appraiser‌: An appraiser can determine whether the property's market value has changed. If not, the appraiser will mark your appraisal as updated.
‌Recertification of value‌: Buyers may want an appraiser to recertify the home's value if the original appraisal was conditioned on some action, such as replacing the roof, and the appraisal expires before the work is completed.
‌New appraisal‌: A buyer can ask for (and pay for) a new appraisal report and/or home inspection after the expiration date. For various reasons, including age and market volatility, lenders request new appraisals to reestablish fair market value.
These are the maximum appraisal ages accepted by governmental mortgage loan agencies:
‌Federal Housing Administration‌: The maximum appraisal age for an FHA loan is 120 days, but it can be extended to 240 days through an update. The agency can order new FHA appraisals whenever loan applications receive new case numbers.
‌Fannie Mae‌: This agency has an unusually high tolerance for old appraisals — 12 months. However, you must update the appraised value after four months. Fannie Mae does not require the lender to provide a copy of the appraisal.
‌Freddie Mac‌: Freddie Mac follows the same appraisal age policies as Fannie Mae. However, Freddie Mac requires a copy of the appraisal from the lender.
‌U.S. Department of Agriculture‌: USDA loans allow appraisals up to 150 days old (i.e., a 120-day validity period plus a 30-day grace period). Once the time expires, you must provide a new or updated appraisal of the value of the home.
‌Department of Veterans Affairs‌: Appraisals for VA loans are valid for six months. You cannot reuse the appraisal once you close on the home.
Consider Market Conditions When Getting an Appraisal
Appraisals age more quickly in volatile real estate markets because of rapid price changes. Appraisers rely heavily on "comps" (comparable sales), which can vary significantly during turbulent times. If you are a buyer, you may want a new or updated appraisal every 30 to 60 days during market downtrends. The opposite applies to homeowners who wish to benefit from higher home valuations.
Upon the lender's request, a home appraiser may revoke an appraisal if market conditions suddenly change or if the home undergoes significant damage or major improvements. Sellers should not invalidate an appraisal by reducing a home's value, perhaps by removing essential amenities or failing to perform agreed-upon repairs and improvements.
Sharing Home Appraisals
It's up to the lender, but many will accept an appraisal transfer from a different lender. The appraisal must comply with the industry's Appraiser Independence Requirements, as detailed by Freddie Mac.
If you are a buyer or seller and have a previous appraisal, you can offer to share it with a new appraiser, who might or might not want to see it.
Banks are usually picky about the appraisers with whom they will work and generally do not accept appraisals prepared for other banks. Banks control the appraisal process to prevent collusion and do not accept appraisals provided by a borrower or seller.
References
Writer Bio
Eric Bank is a senior business, finance and real estate writer, freelancing since 2002. He has written thousands of articles about business, finance, insurance, real estate, investing, annuities, taxes, credit repair, accounting and student loans. Eric writes articles, blogs and SEO-friendly website content for dozens of clients worldwide, including get.com, badcredit.org and valuepenguin.com. Eric holds two Master's Degrees -- in Business Administration and in Finance. His website is ericbank.com.