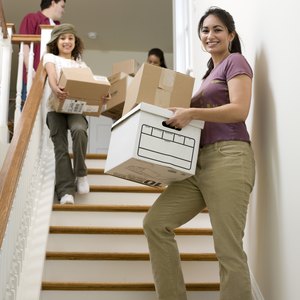 •••
David Sacks/Lifesize/Getty Images
Short sales became a preferred method of getting rid of bad home loans in 2012. Mortgage lenders and financially distressed homeowners often opt for short sales as the less fiscally damaging alternative to foreclosure. Lenders like them because they tend to be cheaper than the legal process of foreclosing and sellers like them because they often lead to quicker credit and financial recovery. Some lenders require the owner to live in the home to ensure upkeep, while others may allow non owner-occupied short sales.
The Basics
Transactions in which the seller's mortgage debt exceeds the home's sale price are known as short sales. They require voluntary participation by the mortgage lender, which agrees to accept less than the money owed and cancel the debt. A short sale allows it to avoid the lengthy process of legally repossessing the house, after which it maintains and markets the property for re-sell. They have long been a loan mitigation option for lenders; however, short sale popularity rose after the housing market collapse of 2008.
Owner-Occupant Rule
As short sales picked up steam, lenders began to loosen seller restrictions. Short sales were usually reserved for owner occupants; that is, borrowers who lived in the home as their primary residence. As a typical condition of short sale approval, the lender checked to ensure that the homeowner lived in the property at the time of his short sale request. The owner occupancy requirement helped discourage investors from using short sale programs to get rid of a bad investment and take advantage of declining markets.
Possibilities
As of 2013, the federal government's Home Affordable Foreclosure Alternatives program -- which streamlines guidelines among approximately 100 lenders -- includes investment and secondary homes. Non-participant lenders have their own short sale restrictions which may require a seller to live in the home when requesting a short sale. A short sale of rental or secondary housing must be disclosed to the lender as such. Lenders require appraisal inspections and written affirmation from the borrower to discern occupancy status before approval.
Considerations
In the short sale of a principal residence, the lender requires you to keep the home in marketable condition, even if you move out before closing. The objective is to convey a clean title to the new buyer and a property free of vandalism or uninhabitable conditions. Borrowers who abandon their homes often also abandon the responsibility of homeowners association dues, which convert to liens, utilities and basic property upkeep. Hence, lenders typically prefer that an occupant live in the home and care for it, whether it is a tenant or the borrower. The occupant must agree to move out upon short sale transaction closing.
References
Resources
Writer Bio
Karina C. Hernandez is a real estate agent in San Diego. She has covered housing and personal finance topics for multiple internet channels over the past 10 years. Karina has a B.A. in English from UCLA and has written for eHow, sfGate, the nest, Quicken, TurboTax, RE/Max, Zacks and Opposing Views.